Healthcare Laundry: William Muse, United Hospital Services, Indianapolis, Ind.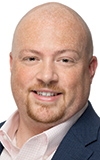 William Muse
Employee burnout seems to be a newer hot-topic discussion item as businesses continue to struggle to fully staff their operations.
As business leaders, we turn to our key players to carry the workload when our workforce is short, and they are typically all too happy to do so.
But what happens when you lose that key player due to burnout? Who are you going to turn to then? If you're like me, I don't want to think about losing any of my key players due to a series of manageable events.
There are many ways to address employee stress and burnout, many of which don't require you to reinvent the wheel.
First, evaluate the workload of your staff. If your production manager is working 12 hours a day six days a week, they are not likely to be able to maintain that workload for a long time.
Second, evaluate the controls in place within your facility. Does your team leader or account manager have the autonomy to make the necessary decisions to get the job done?
Third, foster a sense of community. This can be as simple as planning fun events like themed days, employee cookouts, etc.
Lastly, and arguably most importantly, ensure that your leadership teams are actively involved in supporting the needs of your workforce daily.
Consulting Services: Jon Witschy, Spindle, Woodridge, Ill.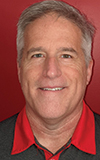 Jon Witschy
Since it can't be seen until it manifests into poor performance or employee conflict, burnout is something to regularly address. It can occur in busy and calm times, alike.
Get back to the basics. Ensure that your personnel is taking breaks and lunches. This is typically required for frontline employees but make certain that your management team is doing so, as well.
Especially with this latter group, encourage them to fully disconnect and limit the "shop talk" when away from their offices and workstations. Set up a nice break/lunch area with amenities like snack machines, comfortable tables and seating, music, and/or TV (but maybe keep the channel off of political talk shows).
As it is every year, the upcoming season will surely be busy for laundries, but the holidays also typically coincide with spikes in burnout. Therefore, be sure that personnel is taking their vacations. Support them in balancing time with work and family.
Explain priorities and process flow to your employees. Knowledge will help them to handle stress in their own job responsibilities and to better deal with the situations around them. An understanding of plant operations might avoid having "Chicken Little" overreact to small concerns.
Let employees know the importance of what they do. Telling them how their piece fits into the overall puzzle will provide a perspective that leads to pride in—rather than burnout from—their jobs. Provide details on business statistics: volume produced, revenue generated, improvement initiatives completed, etc.
On that subject, one of my co-workers has previous experience with a trucking company. They created a "Wow" board, which would highlight miles driven, loads delivered, and—especially for this time of year—the number of gifts that made it into the hands of children.
Above all, thank your employees for their hard work. Show them that they are appreciated. Hold an employee picnic. Maybe invite their families and add to that sense of pride by letting them show off what they do and how they support those around them.
Have management from the top down thank individuals for what they do.
Even when employees enjoy their work, they can get burned out. Do your best to encourage them in what they are doing and provide the occasional distraction so that they can disengage and come back refreshed. Good luck!
Hotel/Motel/Resort Laundry: Kelly Reynolds, Sea Island Acquisitions, Sea Island, Ga.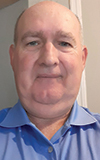 Kelly Reynolds
Managing stress is a tough situation in most work environments.
As a director or manager, the most important thing you can do is to prevent pushing the "have to get it done yesterday" mentality. If you want quality work, your employees need to be able to slow down and get things done right the first time in a quality manner.
If your main goal is quantity, your employees need to be able to work at their pace. As they get better at the tasks, their speed should automatically improve. If not, then they either don't care or are not willing to try.
A method I have used to increase the quantity of work and reduce employee stress is to look for ways of making a game out of work.
One game we played was with basketing pans for stripping the glaze. The team who basketed up the most pans got a lunch paid for by me.
Another game involved the whole shift. If they got the pans in the baskets before a set time, they got an extra five minutes of lunch break. For washing the pans before a set time, another five extra minutes and so on for each phase of the process.
Another way I reduced stress was for employees who had a history of showing up on time day after day. If they called and were running late, I would personally clock them in on time.
On paydays, if someone's check did not come in I would pay them something out of my paycheck until theirs did come in.
So, in a job that was physically demanding and normally high stress, my crew worked stress free knowing they were appreciated for good timely work habits, and they knew they could count on me.
A way to avoid burnout is to make sure that employees are not made to feel guilty for taking their full breaks. No job is worth the health and well-being of the people who do that job.
The aforementioned ways to avoid stress also avoided burnout because my employees actually looked forward to coming to work; it wasn't just a job for them.
I learned from the plant superintendent and plant manager that we were a family that got to know each other. The higher levels of upper management got to know the employees and most of their immediate families.
They also let their family members know how much they appreciated their husbands or spouses for working there and that they were there to help them. When you get to know your people and what they are going through, then you can better tailor the job to avoid stress and burnout.
Another very effective method I employed was when an employee was getting overworked or had something going on that was affecting them at work, I would take over doing their job once in a while to give them a break or a chance to deal with whatever they had going on.
You can get your best out of people when they don't think you're out to get them for something or always looking to write them up when performance drops off.
Usually, that happens when there is something going on in their life either at home or work. If you can find out what is bothering them, you can avoid most stress and burnout.
Read the conclusion tomorrow with advice from commercial laundry and chemicals supply experts.
Have a question or comment? E-mail our editor Matt Poe at [email protected].