JACKSON HOLE, Wyo. — In 1931, the story goes, a cowboy traveling through northwest Wyoming saw Teressa Martin outside doing laundry.
The cowboy, on horseback, approached Teressa and asked if she would be kind enough to do his laundry. The interaction gave Teressa and her husband, Al, the idea to start a laundry service, and Teton Laundry was born.
The business primarily did personal laundry for early Jackson Hole households. Sheets, towels, shirts and jeans filled those early washtubs. Soon dude ranches were sending their dirty linens to Teton Laundry.
Located at the southern gate to Grand Teton and Yellowstone National Parks, small motels began to sprout up to serve the summer tourism industry, their primary business.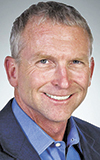 Mark Barron
The laundry and linen service has undergone many changes since 1931. Today, Mark Barron owns the company known as High Country Linen Service, and its most recent renovation took place in 2018.
American Laundry News spent some time asking Barron about the service. In the conclusion, he talks about the operation in terms of timeliness, quality, uniqueness, success and plans for the future.
Do you have any certifications? How do you ensure timeliness and quality?
The pandemic interrupted our application for BEST Environmental Sustainability Certification and we hope to complete this certification this year.
The Vega system has increased consistent quality goals. Our management team consists of your typical operations, sales, service and maintenance, and staff tenure is measured in decades of experience serving our valued customers.
We run our plant six days a week in peak summer and winter seasons, with daily to weekly deliveries to ensure excellence to our customers.
Our chief engineer and two technicians maintain all equipment, boilers, plumbing, electrical, facilities and much of the maintenance on our fleet of 17 delivery trucks, most of which are diesel and two that are CNG (compressed natural gas) fueled.
What makes your company unique in the laundry/linen services industry?
We walk the talk when it comes to environmental responsibility with investments in energy efficiency, water conservation, renewable energy and recycling.
Our commitment to serve our customers 24/7, 365 days a year sets High Country Linen Service above the competition. With a comprehensive route system of 13, High Country Linen Service covers the valley proper and a 100-mile radius to include our national parks, south to Pinedale and Afton, Wyoming, and eastern Idaho's Swan Valley, Victor and Driggs.
Our Janitor & Cleaning Supplies division offers bulk tissue and toilet paper and everything our customer base buys to clean and sanitize floors, furniture windows and bathrooms in lodging, restaurant, retail, office and industrial services.
By the truckload or from our retail outlet, we've got you covered!
What have been some of the company's greatest successes? How were those achieved?
Over the past 40 years, we've rebuilt the physical plant twice. The first time was four years after purchasing the business.
In 1998 the plant was completely destroyed by fire at the start of our busy summer season. Operating around the clock in a small, leased laundry in Grand Teton National Park and rented warehouse space, we managed to plan, permit and rebuild in a newly equipped, modern facility in 1999.
Our valued customers, a good friend and equipment supplier Kerry Bengtson and American Laundry Machinery, the local bank, and our community supported us at every turn and helped turn a nightmare into a success that saved all our staff's jobs. The recent Vega Systems USA rebuild was accomplished while still operating.
We also infused some new talent into our leadership team and reorganized for optimal performance and accountability, improved service and increased sales.
What's in the future for the company?
I purchased the adjacent property in January 2020 for expansion and additional employee housing. During the early months of the pandemic, we remodeled the new commercial space and moved our Janitor & Cleaning Supplies store into this more prominent location, gutted the old store, and moved our offices into this brand-new space and gutted the old office space and adjacent supplies storage to create about 5,000 square feet of linen storage and delivery staging.
These improvements made our plant even more productive. Our store sales increased 20%, and our office space looks more professional and provides improved communication between administration, sales and service.
These investments in state-of-the-art equipment, staff and real estate have positioned our business for growth!
Miss Part 1 about High Country Linen Service's market and renovation? Click HERE to read it!