JACKSON HOLE, Wyo. — In 1931, the story goes, a cowboy traveling through northwest Wyoming saw Teressa Martin outside doing laundry.
The cowboy, on horseback, approached Teressa and asked if she would be kind enough to do his laundry. The interaction gave Teressa and her husband, Al, the idea to start a laundry service, and Teton Laundry was born.
The business primarily did personal laundry for early Jackson Hole households. Sheets, towels, shirts and jeans filled those early washtubs. Soon dude ranches were sending their dirty linens to Teton Laundry.
Located at the southern gate to Grand Teton and Yellowstone National Parks, small motels began to sprout up to serve the summer tourism industry, their primary business.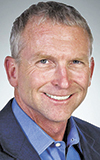 Mark Barron
The laundry and linen service has undergone many changes since 1931. Today, Mark Barron owns the company known as High Country Linen Service, and its most recent renovation took place in 2018.
American Laundry News spent some time asking Barron about the company. In Part 1, he talks about the markets it serves and its renovation.
What markets does High Country Linen Service provide service for today? Why do you service those markets?
I purchased the company in 1981 after being recently incorporated and named High Country Linen Supply, dba High Country Linen Service. We served those same dude ranches and motels, washed and ironed countless shirts and jeans for years.
As the market matured, we dropped personal laundry service and began contracting to rent industrial uniforms, entry mats, shop towels and restaurant linens, towels, aprons and chef apparel. We developed linen supply programs for the growing lodging industry of hotels, motels and short-term condominium rentals.
In a tourism destination market, our bread and butter are lodging and food and beverage linens, but we added substantial entry and custom logo mats.
We also provide industrial uniform rental for the year-round service: auto repair shops, auto dealerships, grocery and retail outlets.
What led to the most recent renovation/upgrade of your operation?
Jackson Hole has a well-deserved reputation where the billionaires are moving out the millionaires. Its real estate market is fueled by its proximity to Grand Teton and Yellowstone, world-class wildlife, skiing, and fly fishing served by a small airport with direct jet service to 14-15 major cities—pretty impressive for a community of under 25,000.
The fact that over 97% of Teton County's land is public lands, coupled with Wyoming's absence of state income taxes, fuels this hot real estate market. The market has driven the median home sale price to $1.89 million, far beyond affordable to most working families.
This furthers an extreme shortage of affordable housing and that results in a workforce shortage and rising labor costs. A desperate need to remedy staff shortages and turnover led to the need to increase speed and efficiency if we were to remain competitive and have the capacity to grow.
How did you upgrade the operation?
In late 2018 we invested in an equipment project with Vega Systems USA. Having worked with Kerry Bengtson, vice president, over three decades of equipment purchases, led me to Vega Systems in 2016. Kerry brought Vega Systems founder Ad Van Geffen to our plant to explore a whole new laundry system custom-designed for our two-story facility.
This comprehensive equipment project started Oct. 16, 2018, and our startup was Dec. 10, 2018. Existing rail and equipment was disassembled and hauled away just as 19 shipping containers of Vega Systems USA equipment began to arrive.
The new Vega monorail, conveyors, dryers, tunnel washer and SmartPress were installed by Vega riggers and technicians working with our mechanical team.
Centered around the 15-pocket Vega SmartLine 60/15 tunnel we have four Vega Smartdry dryers (260 pounds), a Vega Transfeed, a Vegafold-S sheet folder with four stackers integrated into the machine, VegaFold for small-piece flatwork, two existing three-roll steam heated ironers, and three Vega Mulifold Super 1.8 knives with three stackers for towels.
How did the upgrade help with labor, improve quality, pounds, etc.?
We automated linen delivery to all soil and clean work positions with Vega conveyors and a six-station Vega soil sort with auto-weighing and sling storage on a monorail, autoload for the tunnel and SmartPress, a lift to the second-floor conveyor and shuttle conveyor to the four loading conveyors to the four dryers, and exit conveyors to clean slings and overhead rail storage.
Towels are automatically dropped onto a conveyor that feeds all three Super Multifold towel folders; sheets auto-drop from clean sling to a Vega conveyor/picker, which separates sheets and conveys them to the Vega Transfeed; and napkins and pillowslips are auto dropped to a conveyor that feeds the small piece ironer operators.
The soil and clean conveyors, lifts, shuttle conveyors, clean and soil stainless monorail material handling was run by Vega Systems visualization and electronic identification and tracking of all laundry loads from start to wrap-out.
We kept two 450 JENSEN L-Tron washer-extractors, two 450G dryers, and a Rome shuttle conveyor for industrial towels, mats and uniforms. We added a Vega unload conveyor for the dryers.
I added an Ergocon Solutions Towel Bagger for bar towels and other small-sized towel products. This past June our wash supplier, Washing Systems Inc. (WSI), installed TRU-UV to sanitize all tunnel reuse water and super activate peroxide bleach, enabling a reduction in alkali and wash temperatures that brightened our whites.
The new Vega system pushes dirty laundry to soil sort, through the tunnel and dryers to all finish stations, eliminating precious labor loading and unloading washers, dryers, ironers, and towel-folding equipment—automatically pushing product throughout the plant. And all items are electronically identified and tracked from start to order fulfillment.
Our goal was to eliminate our second shift by doubling production throughput. The first months of operation were challenged by our learning curve and adjustments to the Vega tunnel and dryers for optimal performance. We accomplished our goal to move from 2,550 to 4,500-5,000 pounds per hour. Pounds per operator hour increased from an average mid-80 pounds per hour in 2017 to 130 pounds per hour and climbing.
Energy efficiency and water conservation are the foundation for reducing our carbon footprint, an imperative for my team and me as a businessman in the Yellowstone ecosystem. The tunnel washer consumes about 0.38 gallons of water per pound compared to 2 gallons per pound with our 1999 washer-extractors for an overall reduction in water and sewer of 45%.
Kilowatt-hours per pound were reduced by 20%; however, demand charges increased as a result of the additional electric motors, and boiler therms per pound are down 29%.
High Country Linen Service operates all our facilities and employee housing units with 100% green power electricity generated by an eastern Idaho wind farm that is co-owned by our local utility.
The Vega Systems plant upgrade is a serious investment in creating faster, more efficient laundry production in ergonomically superior conditions while eliminating painful labor shortages and expensive turnover. Our valued staff—from front line labor to routemen—notice the higher level of product quality in our towels, linens and apparel as well as consistent on-time service.
Check back Thursday for the conclusion on the operation in terms of timeliness, quality, uniqueness, success and plans for the future.