Cheap Ways to Corral Laundry Costs: Cost Control for Textile Services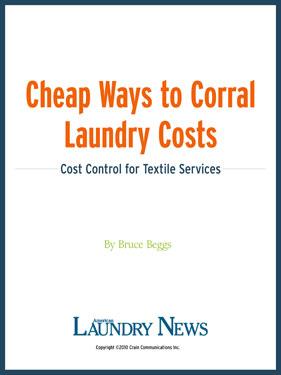 Money is tight all over, even in the laundry. On-premise laundry managers rarely enjoy much spending freedom, while commercial operators traditionally work hard to keep costs low and turn a profit. Today's struggling economy is squeezing operating budgets ever tighter, prompting anxious managers to look for savings anywhere they can find it.
Efficiency is a common theme in the pages of American Laundry News, and we've collected cost-saving techniques and other valuable guidance from some of the industry's top experts in this downloadable research paper. You'll be happy to learn that many of their proposed solutions don't require opening your checkbook!
Topics in this paper include the efficient management of labor and production, equipment performance and utility conservation, purchasing and caring for textiles, and wash formulas and water quality.
A commercial laundry today, no matter the size, needs to create its unique brand to stand out, and this discussion with Asit Goel, vice president of marketing at UniFirst, will examine what steps to take.