CHICAGO — Theodore N. Halkias, director of contracts administration and corporate compliance for Hospital Central Services Inc. (HCSC), a provider of textile programs and services to the healthcare industry based in Allentown, Pa., says his company is seeing more and more requests for proof that its procedures are producing sanitary linens.
This isn't an isolated case. 
It seems more healthcare facilities want verifiable proof that processed linens are clean. These requests are coming from both existing customers and in request for proposals (RFP) from potential customers.
American Laundry News asked experts to share their insights into rising requests for proof of sanitary linens, effective methods to ensure cleanliness, and how laundries and healthcare facilities can work together to keep healthcare linens sanitary, from processing to patient.
This time, Linda McCurdy, president-elect of the Healthcare Laundry Accreditation Council (HLAC), talks the benefits of accreditation.
LINDA MCCURDY, HLAC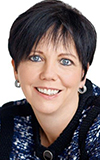 Linda McCurdy
We haven't put it into actual numbers, but lately we've been hearing that among a growing number of healthcare facilities, having HLAC accreditation is becoming a requirement in order to be considered a healthcare laundry vendor. 
However, many of our laundries don't wait to be asked but instead aggressively promote their HLAC accreditation and its benefits to infection prevention strategy. It's a significant competitive advantage.
What healthcare facilities most regard about HLAC accreditation is the fact that our standards cover the complete textile processing cycles, from handling and transporting soiled healthcare textiles (HCTs) to in-plant processing and back to the delivery to the customer. These standards also include strict adherence to federal government regulations and guidelines. 
All of this gives the healthcare customer peace of mind that their laundry is operating to the highest standards for infection prevention and patient safety.    
Requests for proof runs the gamut, from asking for something as simple and convenient as providing proof that the laundry facility is accredited to seeing healthcare facilities/organizations dig a bit deeper, like asking for proof that healthcare laundry standards are being followed. 
For example, there are healthcare laundry standards that address processes in areas such as environmental hygiene, laundry wash formulas, employee hand hygiene and linen transport. Certain healthcare facilities/organizations with an additional level of rigor will ask for actual data proving that the standards are being followed. The data being asked for is often in the form of checklists, training records or even actual microbial counts on surfaces, air, employee hands, water and even linen. 
It is all about proving the processes used to produce clean linen and proving the processes used to keep that linen clean. For example, show proof of your wash formulas and temperatures in the form of regular chemical titration reports, and show proof of your environmental cleaning processes in the form of cleaning checklists and microbial contamination counts of clean laundry surfaces. 
Also, show proof of your cart-cleaning processes in the form of cart-cleaning checklists, cart washer titration records and microbial contamination counts of clean carts, and show proof of your hand hygiene processes by showing employee hand hygiene training records as well as records of employee hand cleanliness analyses. Finally, show proof of clean linens by showing, at the point of entry to the hospital, visibly clean linens, as well as microbial contamination count records of clean linen samples. 
Recently, HLAC announced the final-phase testing of the HLAC Laundry Process Monitoring Toolkit. Our toolkit identifies and measures the number of microorganisms found in a laundry on hard surfaces, in the air, on linen, in the water and on employee hands. The toolkit employs a proprietary extraction technique that is designed to recover a more accurate representation of bioburden load on laundry media; it is vastly different in scale from anything else currently available in the industry. 
With regular monitoring, the toolkit lets operators know how well their laundry processes are performing and whether their standards are on target as originally intended. 
There's a saying in laundry that it's easy to get healthcare textiles clean, but the real challenge is keeping them clean. There are countless possibilities for HCT contamination on the journey from the washer exit to the patient's skin. HCTs must be protected from potential contaminants every step of the way along this dangerous journey. 
During transport within the laundry, they must be protected from contaminated employee hands, contaminated surfaces, contaminated conveyers and contaminated air, to name a few. During transport from the laundry to the hospital, they must be protected from contaminated carts, contaminated trucks, contaminated hands, as well as contaminated air. Covered and protected HCTs every step of the way is imperative.  
Maintaining the quality and cleanliness of processed HCTs prior to use is a shared responsibility. This maintenance phase is the last part of the overall laundry process of preparing reusable fabric items for use in the next clinical setting, and infection prevention is central to its success. It calls for a collaborative effort between laundry operators and the healthcare professionals in the recipient healthcare facilities: nurses, environmental services technicians and infection preventionists. 
Effective control of inadvertent environmental contamination of HCTs requires commitment and diligence from all laundry operators and healthcare professionals who manage the production and use of hygienically clean HCTs. Staying on top of these responsibilities can be made easier through the use of checklists such as those provided by HLAC.
A healthcare facility looking for a reliable partner to develop or enhance their linen strategy need look no further than to their healthcare laundry professional. This is especially true if the laundry is HLAC-accredited. 
A good practice is for the hospital-based infection prevention team members to treat their healthcare laundry professionals as part of their extended team, where there's an ongoing sharing of updates in infection control and prevention efforts and in the regulatory and licensing arenas. 
Important to this team-style relationship is for facility professionals to visit the healthcare laundry to become acquainted with the personnel responsible for administering the laundry. In fact, the laundry should be open to at least yearly visits from their healthcare customer. These visits are more productive when they're treated collaboratively. Critical here is open communication, cooperation and collaboration between the healthcare facility and the laundry profession.
On-going education is key. This is where trade media, like American Laundry News, play an important role by providing opportunities to present discussion of relevant issues, challenges and solutions.
Miss Part 1 with Theodore N. Halkias, director of contracts administration and corporate compliance for Hospital Central Services Inc. (HCSC)? Click here to read it.
And check back Thursday for comments from Joseph Ricci, president and CEO of TRSA.