"Our resort has upgraded its linens everywhere, from the guestrooms to the pool to the five-star restaurant. So, the pressure is on to clean, handle and store these goods so they give us the longest useful life possible. What advice can you give me about processing high-thread-count linens?"
Consulting Services: David Chadsey, Capital Equipment Consulting, Winter Haven, Fla.
The hospitality industry is extremely competitive. One of the ways that properties have sought to differentiate themselves is by using high-quality textiles throughout their scope of services.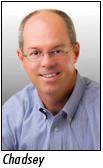 Events seem to blend together for me after having worked more than 25 years in this industry. But it seems to me this whole high-end-hospitality-linen rage started a decade ago with the luxury pillow-top bed. Oh, yes, the indulgent extravagance of a bed with a built-in pillow top.
Unfortunately, many of the pioneering hospitality decision-makers didn't work in operations. In many properties, the discovery that standard-sized sheets do not fit on thicker mattresses was a stark revelation upon install.
No problem. Purchasing comes to the rescue with wider, longer sheets. But these sheets don't fit width-wise down the ironer. Uh-oh. As an average, full-function finishing line costs about $250,000, many laundry operations were left to figure out temporary solutions until capital resources were made available for new equipment. Today, the ironing line of 130 inches wide plus is the specification standard in nearly all hospitality applications.
Who can forget the national media coverage several years ago that told America that hotels don't launder their bedspreads after every guest checkout? Oh my! Again, sales drive the train and property differentiation comes first. "Here's an idea—let's put a duvet-covered quilt on every bed. Then we only have to wash the cover."
Wash and iron, Mr. Hospitality Exec. Ironing a duvet cover, as those working in hospitality have learned, is like ironing a mega pillowcase on steroids. Again, operations were instructed to figure it out. Soon, everybody learned that high quality comes with a price—more labor, more utilities, and more equipment.
For decades, the T-180 sheet—and blended, at that—was the standard throughout the hospitality industry. No longer. The Holiday Inn Express that I stayed in recently had tuxedo T-220, 100% cotton bed linen. In many ways, cotton is easier to wash—the fabric loves to open up and surrender stains in hot water. But finishing is another issue.
It seems like the industry already went through this in reverse nearly 50 years ago. If you want cotton flatwork to look nice, it has to be ironed. Fifty-pound washers and tumble dryers in the basement simply will not provide a high-quality finish.
Pay attention, folks. If the high prices of cotton continue, I would expect the major mills to introduce new "looks and feels like cotton" polyester bed linen any day.
Through all of this change, Milliken led the charge in table linen, producing amazing imitation cotton food-and-beverage products. This product line has come a long way from the original Visa introduction. Most of this high-end, spun-poly-type fabric provides exceptionally long life, stable color, and ease of processing.
Uniforms: Barb Herman, SanMar Corp., Issaquah, Wash.
First, from a textile perspective, the task here really starts during the decision-making process to upgrade your linens (or any other textiles).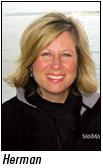 If a resort has an on-premise laundry (OPL) with commercial washing and finishing equipment, then the biggest part of this decision is the balance between image (look and feel) versus fabric durability in dye fastness, shrinkage, shape hold, snagging, soil/stain release, and the ability to wash and finish the product at high temperatures.
Many "high-end" linens are designed for look and feel, but are not built, and will not withstand, the rigorous processing needed to properly clean and finish the goods.
The wash floor chemical suppliers and dryer/ironer manufacturers operate in OPL and rental (linen supply) channels. They are well aware of the processing standards, chemical usage, and machine operation, as well as fabric performance testing that can be offered to evaluate potential premium linens for your operation.
With "high-thread-count" linens comes the risk of damage in both use and processing. The smaller denier of the yarns is what provides the look and feel, but it is simply not as durable as more-commercial products. More care needs to be taken in how these goods are processed in an OPL.
Stains on lighter fabrics become one of the most volatile issues for OPLs. Whites can be bleached to remove stains. However, lighter colors will fade drastically with typical commercial bleaching, and most fabric manufacturers warn against the use. Darks typically fade faster and show inconsistency in inventory as wear occurs. It is important to test products through the expected life cycle before making a decision to purchase.
With regard to storage, it is important to have proper shelving, cabinetry and carts that can be easily kept clean and neat. Goods should be organized in such a way that your housekeeping staff can handle them without the risk of product falling on the floor, or in areas around your resort that might cause staining.
The shelving and material-handling equipment (such as carts) should be segregated as "clean" and "soiled" so that you keep your soil redeposition in check. Finally, you will need to train your housekeeping staff to assist you in spotting stains and heavy soil, and in separating linens and toweling while cleaning rooms, so there is no redeposition in typical wash loads.
Moving from standard-grade linen to high-end also dictates that you inspect and maintain your washers, dryers, ironers, sorters and accumulators in such a way that they are kept clean and free of burrs that might cause snagging. The higher the thread count, the higher the risk.
Upgrading linen can certainly enhance the image of a resort and bring new and repeat customers. Let's face it. We all want to sleep and bathe in comfort. Taking the time to identify the proper product by qualifying and testing, setting the processing and handling standards, maintaining the storage and handling equipment, and constantly training staff to be part of the overall image of your resort can be the difference in a successful upgrade.
Tomorrow: High thread count does not equate to more durability. In fact, the opposite is true …Click here for Part 1.