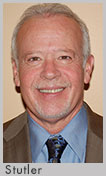 SOUTH HOLLAND, Ill. — Rodney K. "Rod" Stutler, regional vice president of corporate accounts at Gurtler Industries, died Dec. 14 at the age of 55, the company reports. Stutler had recently been diagnosed with throat cancer, and was in the middle of therapy treatments.
A long-time employee of Gurtler Industries, Stutler served in various roles for the company, and was involved in several industry associations, including the Textile Rental Services Association (TRSA), the International Association for Healthcare Textile Management (IAHTM), CSCNetwork, the Association for Linen Management (ALM) and Universal-Unilink, the company says.
Greg Gurtler, president of Gurtler Industries, was a close friend of Stutler's. "Rod was very instrumental in the growth of Gurtler Industries throughout his career. He was a true professional and will be missed by all."
Stutler is survived by his wife of 27 years, Brenda Stutler; children, Ryan M. and Lauren J. Stutler; parents, Roger K. and Joanne Stutler; brothers, Roger Stutler Jr. and Scott Stutler; and a stepbrother, Steven McCauley.
"It was Rod's longtime wish to be an organ donor; however, due to his battle with throat cancer, his body was unable to fulfill his wishes," the company says. "In spite of this, Rod was able to donate his corneas to two individuals who [received] the gift of sight before Christmas."
A memorial service was held Dec. 20 at the Paquelet Funeral Home in Massillon, Ohio.
Donations in his memory may be made to The Research and Education Foundation of the American Head and Neck Society at 11300 W. Olympic Boulevard, Ste. 600, Los Angeles, CA 90064, or online at www.ahnsfoundation.info/one-time-donation-form/.