CONKLIN, Mich. — American Laundry News has learned of the recent death of Maurice "Jerry" Moore, the first executive director at West Michigan Shared Hospital Laundry (WMSHL), Grand Rapids, Mich.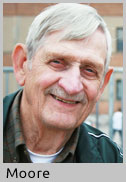 Moore, of Conklin, died Feb. 21 after a brief illness. He was 81.
Duane Houvener, the current WMSHL director, wrote in a recent International Association for Healthcare Textile Management e-newsletter that Moore was hired before plans for the laundry were finalized and then oversaw the final plans and equipment requisition, plus set up and trained a new staff of laundry workers. Moore retired from WMSHL in 1996 after 23 years on the job.
Surviving Moore are his wife, Patricia; children, Paul, Karen, Dave and Linda; a brother, James; and 12 grandchildren.
Memorial contributions may be made to the St. Francis Xavier Catholic Church, Perpetual Care, in Conklin.