FRANKLIN, Tenn. — CSCNetwork reports that Jamey Cashman died Aug. 29 after a lengthy battle with cancer.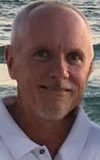 Jamey Cashman
He served as executive director for the buying group and marketing alliance resource for independent laundries from 2009-2021.
"He will be remembered as an industry leader, as well as a friend and mentor, who has left an indelible legacy on the industry in general and on CSC in particular," the organization shares.
CSC says Cashman brought the organization to new highs with his thoughtful and decisive leadership, and he will be remembered for the many contributions he made during his 28-plus years in the industry.
"Jamey was a leader we admired, respected and honored," says CSC. "His calm, supportive and disciplined approach taught us qualities we all try to emulate.
"A fixture at most CSC meetings, Jamey loved fostering relationships as is reflected in his ability to remember details such as family member names and important events. His humor and classic one-liners endeared him to everyone he met.
"He was thoughtful, humble,  generous, and so very kind. We will miss him dearly, and we know our members and suppliers will as well.
Before joining CSC, Cashman worked in marketing for VR Corp.
He is survived by his wife Pamela, son Trey (Kacy), daughter Blakely (Charles), four grandchildren, sister Mathilda, and brothers Patrick and Bill.
In lieu of flowers, donations may be made in Cashman's honor to St. Jude Children's Research Hospital or the Sarah Cannon Cancer Institute.