BEACON FALLS, Conn. — Lavatec Laundry Technology reports that Erik de Vuyst, the company's senior field service engineer and a valued employee since 1993, died on May 27 after a long illness.
He would have turned 72 the next day.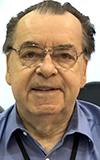 Erik de Vuyst
"Erik was a truly special man," recalls Mark Thrasher, president. "He was kind, funny and such a joy to be around. He was the hardest working man I have ever met, and he would go out of the way to help anybody. Erik's dedication to his job and Lavatec was second to none.
"He will be missed by everyone here and his wife, Nyesha, whom he was married to for 17 years."
Due to the COVID-19 crisis, funeral arrangements are not possible at this time. His family does plan to hold a memorial event in the future.