MONTREAL — MIP Inc. reports that sales consultant Dave Flattem died unexpectedly Oct. 4 at his home in Shakopee, Minnesota.
Flattem joined the MIP salesforce in 2019. He was responsible for business development in the Midwest, as well as special projects as required.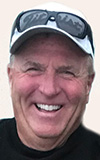 Dave Flattem
Before joining MIP, he was involved in healthcare sales at Encompass Group for around 30 years.
MIP says that Flattem's love for the outdoors was surpassed only by his love for his family. 
"Simply stated, Dave was a remarkable human being and everyone at MIP is better for having known him," the company says. "His family remain forever in our prayers."
Flattem is survived by his wife, Lynn; children, Jake Flattem (girlfriend, Chelsey Ludescher), Matt (Kelsey) Flattem, and Taylor (Erik) Molsather; grandchildren, Kaden and Keegan; and other loving relatives and friends.
He was preceded in death by his parents, Bill and Pat, and other relatives.
A private service was held Oct. 9 at St. Michael's Church in Prior Lake, Minnesota.