Linen Storage, Transport—Keepin' It Clean (Conclusion)
"A laundry's job isn't over once goods are processed. They need to be kept clean afterward. How can managers make sure linens are kept clean during storage and transport?"
Healthcare Laundry: Gregory Gicewicz, Sterile Surgical Systems, Tumwater, Wash.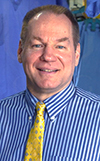 Gregory Gicewicz
Effectively cleaning textiles in a laundry is a well understood process. We sort them by type, load them in the washer, add appropriate chemistry, temperature, water, mechanical action, and time. Presto! Clean textiles. 
After clean textiles exit the washer, there are countless opportunities for contamination on the journey to the end user. Fortunately, there are also methods to mitigate these risks and ensure that textiles remain clean until the point of use. It's helpful to understand the potential pitfalls along the textile's journey and learn how we can address these. 
Exiting the washer:
Make sure carts, conveyers and all surfaces that touch textiles are clean.
Make sure employee hands and other linen contact areas are clean.
Make sure air that contacts clean textiles is devoid of lint or other contamination.
Entering the dryer:
Make sure air that contacts clean textiles is devoid of lint or other contamination.
Make sure all dryer surfaces are clean.
Make sure dryer inlet air is clean.
Exiting the dryer:
Make sure air that contacts clean textiles is devoid of lint or other contamination.
Make sure all surfaces that linen contacts are clean.
Make sure linen is dry.
If manually unloading, make sure employee hands and garments are clean.
Entering the finish:
Make sure clean carts are truly clean.
Make sure conveyers are clean.
Make sure linen is protected at all times along the journey.
Make sure air that contacts clean textiles is devoid of lint or other contamination.
Finish surfaces:
Make sure all finish surfaces are clean, including conveyers, feeders, ironers, folders, stackers, shelves and tables.
Make sure linen does not dangle on a dirty floor. 
Where linen may touch the floor, protect floors with stainless steel or another aseptic surface. 
Ensure employee hands and garments are clean.
Finish storage:
Ensure all finish storage surfaces are clean and cleanable.
Ensure clean linen is protected from contaminated air.
Ensure employee hands and garments are clean.
Ensure clean, stored linen is at least 6 inches away from walls and floors.
Finish carts:
Ensure finish carts are cleaned on the inside and outside before any clean linen touches them.
Ensure finish carts with linen are covered with a liquid-proof, clean cart cover.
Ensure finish carts with holes at the bottom are lined to prevent water from splashing up.
Ensure all linen to be placed on finish carts is dried and cooled.
Trucks:
Ensure truck linen areas are cleaned regularly.
Ensure all linen carts are securely fastened to prevent goods from moving or falling during transport.
Ensure clean linen carts are protected and physically separated from soiled linen carts.
It is best to have written policies for the above, supported with checklists and training records. Furthermore, it is a good idea to regularly monitor and measure your cleaning processes to ensure they are performing as designed. 
Measure contamination levels of hard surfaces. Measure air cleanliness in critical clean linen areas. Measure employee hand cleanliness. Measure clean linen bioburden counts. There is a recently released HLAC process monitoring toolkit (see: www.PMTKnet.org) to help measure the effectiveness of laundry processes. 
Equipment/Supply Distribution: Janice Ayers Davis, TLC Tri-State Laundry Companies, Valdosta, Ga.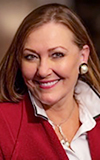 Janice Ayers Davis
"Nurse, I would like to stay over for the next couple of nights with my mom. May I get an extra set of linens, a blanket and a few extra towels if possible?" This question was asked many times during the years prior to my mother's passing. 
Each of us have probably experienced the same scenario, regardless if it was for a loved one's stay in the hospital, a hospice center or nursing home. We often take for granted the linen is going to be plentiful, sterile, fresh and available. We do not stop to think about the manpower, planning, protocol and procedures behind the scenes to ensure we are protected from potentially fatal bacteria. 
"Failing to plan is planning to fail" … this age-old wisdom coined by Benjamin Franklin holds true in virtually every situation. This adage is especially accurate in the laundry industry. Planning, communication, documentation, execution and consistent monitoring is critical to the needs and health of the recipients.
A typical hospital laundry scenario:
Begins with reliable commercial laundry equipment and the proper detergent, chemicals and/or ozone, in order to be equipped to handle everything from light to heavily soiled textiles.
After the linen has been processed, it is loaded onto the sterilized cart by the machine operators. The carts are built for fast turnover, ensuring the linen turns quickly for circulation purposes, with no extra time to accumulate airborne dust and harmful bacteria.
The carts are sterilized daily. No cart is allowed from the soiled side unless it has been run through a "cart wash" and thoroughly disinfected.
The carts are calibrated and maintained weekly by the chemical representative and the maintenance supervisors.
The carts are covered and/or sealed and loaded by the hospital delivery staff onto delivery trucks that have also been sanitized.
The driver wears laundered uniforms and uses puncture-proof gloves, as well as a fresh set of latex gloves, to deliver the clean linens to the designated linen storage area at the healthcare facility.
Once it is checked into the designated area, the linen manager or designated personnel is responsible for checking out the linen or redistributing to designated areas.
The healthcare facility and the laundry are monitored by internal personnel, as well as subject to frequent internal auditing from the Joint Commission. The hospital infection control folks often pop in to audit, and the infection prevention team, along with the EVS director, make routine rounds as well.
It is interesting and comforting to recognize the deliberate and strategic steps taken in order to preserve and present the most efficient and hygienic textiles possible.
Perhaps the next time we visit a healthcare facility, we should take a moment to thank the staff for providing all of the "creature comforts" that supports our health and our happiness.
A special thanks to James Goodwin, director support services, Laundry WellStar, and Levi Scott, environmental services manager, Effingham Health Systems, for their contributions. 
Uniforms/Workwear Manufacturing: Scott Delin, Fashion Seal Healthcare, Seminole, Fla.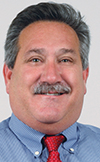 Scott Delin
Just the other day while driving to my doctor's office for my annual physical, I passed two tractor-trailers on Interstate 78 hauling brand-new automobiles to their prospective car dealerships. 
While passing these trailers, at 55 mph I might add, I found it interesting that the automobiles on trailer No. 1 had a white protective film covering the front of the cars to reduce and protect the brand-new vehicles from any potential scratches, nicks and damage due to any flying road debris.  
Trailer No. 2, however, had the entre load of new vehicles encased inside the body of the trailer, thus eliminating the possibility of any of the cars being damaged by flying debris out of the equation while being transported to their perspective car dealerships.  
Upon arriving at my doctor's office for my physical, I was escorted to the examination room where I was instructed to disrobe and put on the examination gown (proud to say a Fashion Seal healthcare gown, I might add) that was laying in the table. I noticed the gown was packaged in a clear poly bag. This made me think of the automobile transports I passed on my way to my appointment. The poly bag was meant to ensure the gown was clean and ready for use by the end user.  
Upon completion of my doctor's visit, I visited a local commercial laundry. While walking through the plant, I noticed that prior to any type of product being stored or staged into poly carts, the carts were cleaned and disinfected. 
To ensure cleanliness of the finished products, garments on hangers were covered with plastic bags. Folded garments delivered in bulk were wrapped with a laundry wrap or packed in bins covered with plastic. Finally, single-use garments were packaged in clear poly bags to ensure cleanliness. 
I also took notice that all of the storage bins of bulk clean linen, towels and gowns were covered with poly or some sort of cart cover thus ensuring the product would be clean upon delivery to their final destination.  
Examination gowns and pajama bottoms were being placed into plastic bags prior to going out to their non-acute customers to ensure that the clean garments would be bacteria free upon delivery to the end-user and would give the wearer the comfort of knowing they were placing a germ-free garment onto their person.
Finally, in an effort to also ensure the clean product is delivered in a clean manner, all the trucks were sanitized as the final step prior to being loaded and transported in a clean environment to the end-user. 
In today's germophobic world, everyone is concerned about his or her safety and the spread of germs. Thankfully, more laundry operators are taking the effort to get either certified or accredited while taking all the necessary steps needed to ensure they are not only processing, but also delivering clean, bacteria-free products to their customers. 
All of this is intended to ensure the product delivered to end-user is bacteria free and the end-user can feel comfortable knowing they are using a product cleaned and processed in a bacteria-free environment.
However, when all said and done, it is our job as operators to make sure we also deliver clean, bacteria-free products to a clean, bacteria-free staging area within our customers' facilities. We need to continually educate our customers on what we are doing to ensure they receive products germ free both inside our facilities and outside. 
Miss Part 1 with advice from experts in equipment manufacturing, commercial laundry, consulting services? Click HERE to read it.
From theWire (Oct 1, 2020)