Contact Follow-up Strategies for Success (Part 1)
"Clean 2019 in New Orleans just wrapped up. How can I best follow up with the contacts I made and make use of the information I gathered? How about for follow-up doing normal day-to-day business?"
Commercial Laundry: David Griggs, Superior Linen Service, Muskogee, Okla.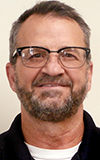 David Griggs
I hope everyone had a safe trip back from the show. It was a very informative show for myself and my colleagues. 
No matter how much you think that you are keeping up with new machinery, there always seems to be a new vendor or machine that makes you rethink your production. I always see an item that I think can be a game changer for our plant. 
Now comes the hard part. Which of those game-changer ideas should you pursue? I have a process that I use when I return from the show.
You need to get real and accurate production numbers that reflect what you are currently getting from production. Then, you have to decide if what is holding you back is indeed your machinery. Putting a new machine into a bad process will not make any improvements.
The next step is to take your plant layout and see which product best fits your work flow. I saw quite a few really nice machines at the show this year that just are not realistic to install in our plant.
Research who would be your local distributor for the particular machine you are looking at. Your overall satisfaction with the machine will depend on your distributor. Find out how large their parts department is—how many items do they keep on the shelf? 
Go and see a machine currently working in a plant. Manufacturers will take you to see machines they currently have installed. A machine folding perfectly in an air-conditioned showroom with new linen, may not perform quite as well in your facility. 
Always take some of your linen when your visit the facility. There is a huge difference associated with folding white linen and color linen. This is caused by the photocells that many vendors use in their machinery, so make sure the items you are wanting to fold can indeed be folded on this machine.
There are quite a few vendors at the show that are not selling equipment. Every year chemical providers seem to make great strides in their products. Once again you want to make sure if you make a chemical change your new chemical provider will have local representation. Take a visit to see what quality current customers are getting from their chemicals. 
Equipment/Supply Distribution: Janice Ayers Davis, TLC Tri-State Laundry Companies, Valdosta, Ga.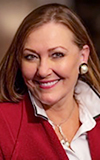 Janice Ayers Davis
Feeling a little overwhelmed, not to mention feeling shot out, burned out and worn out after several days of walking, talking greeting and meeting?  
There were so many wonderful people to meet, great food to eat and amazing products to review … wondering how you will ever get through?  
Trust me, we have all experienced the same thing at some point. Although each Clean Show leaves us thankful for reconnecting with industry associates, reviewing products and making new connections, it can be daunting without a follow-up action plan.
Regardless if you were part of the factory and vendor group responsible for facilitating and rigging in and out the large industrial equipment, a  volunteer demonstrating the equipment, an interested business owner, a chief engineer, a guest speaker, a class instructor, or panel host, the basics hold true—there is a ton of information and much to do and see within a short window of time.
Remember the old adage, "How do you eat an elephant? One bite at a time." Grab a cup of coffee and let's prepare to eat our elephants.
Time Management. Devote short 15-minute segments to organize your thoughts and the business cards acquired. This practice alone will render remarkable results. 
Business Cards. Review the information on the front and the scribbled notes on the back and get the information scanned, copied, logged onto a spreadsheet or secured in a binder.
Phone Calls. Give the contact a quick phone call or leave a brief voicemail to say hello, thank them for their time or arrange a follow-up visit.
Cold Calls. Run by the contact's office or facility to say hello and determine if you can be of assistance, as it pertains to a product they may need or a service they appeared interested in.
E-mail. Send a follow-up e-mail after the show to say hello, to remind the new clients of your company and to determine if they have any needs.
Meetings. Schedule a coffee, brunch, lunch or dinner meeting to discuss current and future opportunities.
Snail Mail. Send a handwritten thank-you note. Etiquette never goes out of style.
Social Media. Whether it is Facebook, LinkedIn, Twitter or another venue, there is an opportunity to connect.  
Communicate. Regardless if you promised to get someone a phone number, introduce them to a group, stop by for a visit or prepare a proposal, follow up and follow through.
So, no matter if you were at the Clean Show or making connections on a daily basis, I am a firm believer there are no coincidental conversations, nor accidental meetings. The discussions and subsequent follow up we manage every day can bring us closer to our objectives and goals, provided we show up, literally and physically. 
P.S.  Congratulations, you ate the elephant!  
Equipment Manufacturing: Brock Pellerin, Pellerin Milnor Corp., Kenner, La.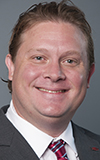 Brock Pellerin
The Clean Show is the premier trade show in our industry. Owners and operators come in from around the world to see the latest and greatest technologies that are offered for the industry. 
It can be a challenge sometimes to remember whom you met and what was discussed. 
If I have the time, I try to give myself notes on meetings and later prioritize those notes to see who needs the most attention. You cannot always write yourself notes because you might be pulled into meetings after meetings, all day long. 
Sometimes, customers just need to get quick answers, like dimensions on a new machine, other times they require a site visit. I try to get site visits into those customers as soon as possible so that the customer understands that they are important and we keep up the level of discussion that we had at the Clean Show.   
Follow-up e-mails and phone calls are important, too, because it keeps the discussion going post-Clean Show with customers. Keep the review e-mails to your customers short; there is no need to overload them with too much information that they will just disregard anyway.  
Reviewing the business cards you collected during the show is a good idea, too, because it might help stimulate an idea or thought you had at the time that you might not have right now. 
Even if you answered a question for a customer, continue to follow up with them to see if they have additional questions, this keeps the level of communication open with your customer. Do not give your customer information that is not relative to their needs. 
If you purchased lead-scanning software for the show, do not forget to review the scanned badges for leads that you might have missed because you were helping another customer. You might have missed a customer that wanted to speak with you directly, and reviewing those scanned badges gives you a chance to fix that missed opportunity for one-on-one time with your customer. 
As long as you have the mentality that you will continue to be a resource for your customers, you will be just fine. You must be helpful for your customers before, during and after the Clean Show. It is impossible to help everybody, but when you are with a customer, make sure to give him or her the undivided attention that they deserve. 
Check back tomorrow for advice from experts in in healthcare laundry and uniform/workwear manufacturing.
From theWire (Oct 1, 2020)