KANNEGIESSER PROMOTES HART TO EXECUTIVE VICE PRESIDENT
GRAND PRAIRIE, Texas — The owner of Herbert Kannegiesser GmbH recently promoted Phil Hart to executive vice president of Kannegiesser USA.
During the company's recent Canadian sales meeting, owner Martin Kannegiesser announced that Hart's role in the company will expand, moving him into supervisory positions with different departments, while continuing to be responsible for the company's daily operations.

Hart joined Kannegiesser USA in 2004 as vice president of marketing, bringing with him more than 10 years of industry and product experience.
TURN-KEY INDUSTRIAL ENGINEERING HIRES BERNSTEIN AS SENIOR VP
CHARLOTTESVILLE, Va. — A veteran of the textile industry, David Bernstein recently joined Turn-Key Industrial Engineering Services as senior vice president. Bernstein's role will be in business development, consulting, and adding new services to the firm's lineup.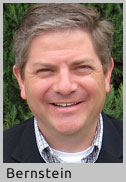 The fourth generation of his family in the textile rental industry, Bernstein brings a unique perspective and a diverse work résumé to his new position. He has more than 20 years experience, including stints as president of Consolidated Laundry Machinery Co., as director of the Uniform and Textile Services Association (UTSA), and as chief operating officer of F-MATIC.

"All of us at Turn-Key are ecstatic to be welcoming David as a member of our team," says Chip Malboeuf, Turn-Key president. "His experience, skill set, intelligence and enthusiasm for the industry will not only enhance our current offering, but will also allow us to provide our clients with additional services to increase their revenue and improve their operations."

In addition to his professional experience, Bernstein is two-time chair of the UTSA Plant Operations Committee, an inductee into the Plant Operations Hall of Fame, an instructor and task force member for the Production Management Institute (PMI) and Maintenance Management Institute (MMI), and a former member of the board of directors of the Western Textile Services Association (WTSA). He resides in Park City, Utah.
TINGUE, BROWN & CO. PROMOTES LAVIGNA TO PURCHASING DIRECTOR
SADDLE BROOK, N.J. — Paul LaVigna has been promoted to the role of purchasing director for the TB division of laundry industry supplier Tingue, Brown & Co. He will work out of TB's satellite office in Clifton Park, N.Y.

LaVigna brings extensive experience to his new role, much of it gained through his years with the U.S. Army, where he was a procurement and logistics officer. More recently, he was an operations manager for a nationwide retailer. He has been in corporate operations with TB since August 2010.

A graduate of the U.S. Military Academy at West Point, LaVigna lives in Saratoga Springs, N.Y., with his wife and two children.

"I am grateful for the opportunity this new position provides," LaVigna says, "and I look forward to working with all of Tingue, Brown's partners in the laundry industry."
VENUS GROUP HIRES INDUSTRY VET MCBRIDE AS SALES MANAGER
FOOTHILL RANCH, Calif. — Venus Group has a new Midwest regional sales manager. With more than 30 years of industry experience, Mike McBride is now responsible for the textile company's sales and growth efforts in the Midwest.

His diverse résumé has allowed him to meet many Midwest dry cleaners and laundry owners as well as people with national textile chains. He started with Procter & Gamble as a field representative and trainer, then moved to Cleaners Hangers Co. as a sales representative. His most recent post with Cleaners Hangers was as vice president of sales and marketing.

McBride earned a degree from the University of Notre Dame, where he was also a member of the 1973 NCAA national champion football team.
G.A. BRAUN ADDS SLETTE TO FINISHING EQUIPMENT TEAM

SYRACUSE, N.Y. —The G.A. Braun Finishing Equipment Engineering Team has a new member. Matt Slette brings to the product development team a diverse experience in modeling components in 3D and developing 2D working drawings, bill of materials, and assemblies for production, Braun says.

Slette graduated with a degree in mechanical engineering technology from California Polytechnic State University. He is based at Braun's corporate headquarters in Syracuse.

Have a question or comment? E-mail our editor Matt Poe at [email protected] .