Better Soil Sort, Less Stain/Rewash (Part 1)
"I've noticed a recent uptick in rewash/stains in my operation, and I believe it's caused by poor soil sorting. How can I improve my sort to improve quality?"
Equipment/Supply Distribution: Janice Ayers Davis, TLC Tri-State Laundry Companies, Valdosta, Ga.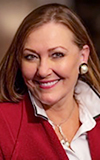 Janice Ayers Davis
Has this ever happened in your laundry? Regardless if your facility is healthcare, hospitality or other, I am sure you will agree there can be multiple issues and more than one solution.
As Andrea reviewed the daily report, the erratic numbers perplexed her. During the past couple of weeks, the numbers had been all over the board. While recognizing there should be an occasional spike or decline in the numbers, she was also seasoned enough to recognize the variance may be created from sorting, loading, chemical formulas or equipment challenges. Regardless, she was determined to locate the problem and find a solution.
She first made a loop around the entire floor as she had witnessed a consultant do several years before. The expert had stated he did not want to assume anything without first observing the entire process.
Andrea paid close attention to pre-sort and post-sort practices. She was aware mixed linens can be especially challenging, as something as minor as placing the pillowcases in front of the sheets can result in tangled goods. In the past, one of the problems occurred based upon positioning of the healthcare gowns.   
Over the next several days, she spoke with individual staff members to include the maintenance engineer and the equipment operators. She was anxious to learn of challenges they may be experiencing. She observed their procedures and conversed with the individuals while providing coaching and kudos as applicable.
Andrea also wanted to make certain there were no unnecessary distractions and that quality and safety were not being sacrificed in order to generate the necessary production numbers.  
Since proper loading is necessary for efficiency and clean linen, Andrea made certain the soiled linens were in the appropriately sized bags to include light, medium, heavy and extra heavy. 
She once again expressed to the team the formula must meet the weight and type of soil, which is critical for a good outcome. Emphasis was also placed upon weighing the goods. Under loading can be as bad as over loading, and it can also prematurely stress the laundry equipment and render inferior results.
The facility had a mix of laundry equipment to include washer-extractors, tunnel washers and finishing equipment. She confirmed the equipment was operating well and confirmed "planned maintenance" was being performed on a consistent basis in order for the equipment to work at maximum efficiency.
Andrea was a bit concerned the formulas may have been reduced to save time and increase production. The pie chart tells the story, as it pertains to the importance of time, temperature, mechanical action and chemistry.
In order to make certain all the bases were covered, she contacted her chemical representative and the commercial laundry technician to review formulas and to observe the operation of the equipment. 
Employee training was reviewed as there were a few new team members working on the floor. Andrea reiterated the need for continued education to ensure the individuals understood the process and followed best practices.
In Andrea's particular case, it was not one major problem, rather a series of several challenges that were easily corrected. She involved additional professionals as needed and worked with dedicated employees to resolve the issue.
Bottom line, knowledge is power and teamwork is dream work!
A special thanks regarding input from Doug Story, president of UNX Inc., and Joseph Imperial, director of laundry at Mission Health Systems.  
Other Institution Laundry: Robin Kramer, St. Michael's Laundry-University of Notre Dame, Notre Dame, Ind.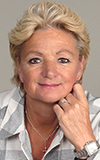 Robin Kramer
The cause of stains/rewashes are often a mystery in our business. I admit I've had to reach out on many occasions to someone I consider a real expert in clean technology. My "soap guy" has solved many mysteries for us and has always given me this advice. I assure you it's worth listening to.  
When we have rewash/stains, he has educated us to ask some specific questions. First, how long is the soil sitting before it is being processed? It's an important question because the longer the soil sits, the more likely the staining will increase.  
Mildew staining is evidence of soil sitting too long, and it grows substantially worse with each passing day, especially if the soil is in a hot plant or there are kitchen soils/proteins that will be quickly populated with bacteria and molds. White linen will show more evidence if it sits too long, but colored goods will develop green to black molds.
Second, has someone sorted on the floor or overfilled carts/bags so that the soil sits on the floor? Linens that hit a dirty cement floor will be marked by a gray/black stain that is virtually impossible to remove.  
The source of the staining is the carbon-based soils on the floor. These soils do not respond well to heavy alkali washes or soil suspension in the washing process. These soils also cannot be removed with oxidization in the bleach bath.  
Next, improper processing of stained linens will cause a "circle" of stain within the plant. Stained items circle through the laundry being processed again and again. Each day a new stain is generated, and this is added to the stained linen already going in circles.  
Stained linen needs to be properly separated and processed on the correct stain formula. Once the stained items have been properly treated, they need to be marked for processing so that any remaining stained linen is removed from service. This is the only cure for circling of stain throughout the plant.
And lastly, check to be sure that the soil was properly sorted based on the level of the soil. For example, napkins should not be processed on a pillowcase formula or there will be an increase in the amount of staining because the linens were not properly sorted by goods and soil level.  
You also would not sort light soil items into heavy soil items because the increased formula temperatures, chemistry and longer run time will prematurely reduce the life expectancy of those goods. 
As well, soil can be transferred from the heavier soil goods to the light soil goods. This is especially true when processing heavy soil cotton goods with polyester goods. The polyester goods will become a magnet for the oils and greases released by the cotton. 
The bottom line is that proper sorting, and operators who understand and are dedicated to that, are key to successful operations. 
Uniforms/Workwear Manufacturing: Scott Delin, Fashion Seal Healthcare, Seminole, Fla.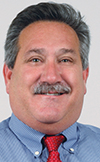 Scott Delin
Last month, our son came home from college for a quick weekend visit on spring break. As he walked through the door, he immediately greeted both my wife and me with not only his smile and charm, but also with a rather large basket of dirty laundry.  
As it was the start of the weekend, I figured being back on his home turf and in his own bed, he would most likely sleep in. With that in mind, my game plan was to get up early Saturday morning and play a round of golf, figuring he would sleep to at least noon as most college kids typically do these days.   
Upon returning home from my morning quest of trying my best to make pars, birdies and my fair share of one putts, I noticed nobody had yet to touch that large basket of dirty clothing sitting in our laundry room. Between feeling guilty for being gone all morning and being a great father and husband, I decided to win a few bonus points on the home front by tackling and processing that load of wash.  
Unfortunately for me, I forgot the number-one most important lesson taught to me in my early childhood by my mother when doing laundry: Separate the white color clothing from the dark color clothing. With that said, there were two new red towels never laundered mixed in with everything else that went unnoticed, as I obviously did not heed the lesson taught.  
By the time the cycle was finished, the damage was done. All the white and light color clothing had this pink tint going on. I immediately knew this error was going to cost me some money in replacing several pieces of clothing.
This costly error made me think and realize how important a good, efficient soil sort is in our laundry facilities. The soil room is probably one of the most, if not the most, important department in every laundry today. Every article or piece of dirty linen represents a dollar bill and initially is sorted and classified through this department and has a direct impact on the quality of our product once cleaned and processed.
Some operators still do a manual hand sort using a conveyor belt, manually separating items by hand, tossing the specific items into their classified soil bags or bins, while others use a quicker more efficient version, a vacuum system. This system sorts and classifies soils linen quicker.
Either way, whichever process one uses in his or her own plant to sort soiled linen is key and is a game changer when it comes to the quality and cleanliness of the product we deliver to our customers.
As one can imagine, each item has its own soil classification and is processed accordingly. Light colors and light soiled products are not processed the same as darker colors and heavily soiled items.  
We also need to consider washing of new product in with soiled products to make sure we do not experience any dye transfer from new products never washed. Dye transfer can be a problem in causing damage to any given load.  
By doing a poor soil sort and not separating specific items, both new and old, one mistake or hiccup can ruin a whole batch of product and be very costly in the end. This not only applies to the sorting of linens, but also when sorting garments.  
When processing and soil sorting lab coats and garments, it is very important to check pockets for any pens and, in some cases, lipstick. Pens and lipstick can and will damage and prove to be very costly to laundries as they will explode and cause many stains and damage to clean unstained product that were not to begin with.
In most facilities during the initial sorting stages, heavily stained items are typically thrown aside and/or re-classified as such. By using a pre-stain treatment and then processing using a special stain formula developed by their chemical supplier, operators can successfully reclaim once stained and non-useable items back into first quality products. 
This reclamation process has a positive impact in the reduction of linen and uniform replacement costs thus adding to the operator's bottom line.
Continual education with our employees in the soil and service departments, as well as informal training with our customers, can also influence and reduce rewash. We also might want to work closer with our manufacturers, suppliers and chemical companies as fabric technology and machinery has evolved a good bit, and the old way of processing with certain wash formulas may be outdated. 
I for one learned my lesson. Instead of just throwing a load in the wash without proper sorting of items, I will now take the extra time and do a proper soil sort before loading the washer.  
Check back tomorrow for the conclusion with advice from experts in healthcare, commercial laundry and consulting.