Equipment Manufacturing: Steve Hietpas, Maytag Commercial Laundry, St. Joseph, Mich.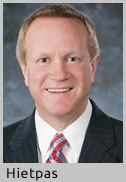 In the case of a hotel, designing a laundry facility is largely a matter of positioning equipment and tables to allow for easy movement by the housekeeping staff—regardless of the amount of space.
Maximizing equipment size is integral to the success of running a smaller, yet efficient laundry operation. Obviously, washers and dryers that handle bigger loads require a larger footprint, but typically, two larger-capacity washers will occupy less floor space than three smaller-capacity washers.
With a smaller laundry area, it may also be necessary to add a shift or a half-shift to keep up with laundry demands. For example, instead of running a more typical 8-hour laundry operation, facility operators may have to adjust to a 12- or 15-hour operation to process all necessary linens.
Once the size and amount of equipment is determined, the facility operator should ensure that the washers and dryers are running at optimal efficiency. This typically means matching washer and dryer cycle times. Historically, facilities experienced long dry times due to washers' slow final spin speeds. This led to carts of wet linens occupying valuable floor space and slowing down the laundering process.
For the highest level of performance, look for soft-mount washers with a G-force exceeding 300. A 350-G washer will leave up to 30% less water in the linens when compared to 100-G washers. This can significantly reduce dry times leading to a much more cost-efficient laundry operation.
Besides the overall efficiency in space and labor, this facility can also see reduced linen costs as shorter dry times help linens last longer, saving on replacement.
Equipment/Supply Distribution: Bill Bell, Steiner-Atlantic Corp., Miami, Fla.
As a laundry equipment supplier, we get requests all the time to help design a functional laundry in limited space. It's rare to find any laundry that has extra space. In fact, most on-premise laundries have such limited space that soil sorting and clean pack-out areas are almost nonexistent.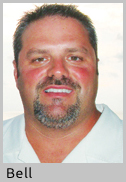 Several of my customers actually sort the linen at the laundry chute before it makes it way down to the laundry. Having housekeepers presort terry from flatwork certainly helps the laundry run more efficiently in a smaller footprint.
Some types of equipment can help reduce a laundry's footprint. For example, a 300-room hotel can use a space-saving all-in-one feeder/ironer/folder/stacker in minimal space. By sizing a large-cylinder ironer, you can actual reduce the number of dryers by not having to condition the sheets or pillowcases. In addition, wash technology has improved; we sell a washer-extractor that offers a fast wash cycle while saving water.
Another space-saving area is in drying. For example, we have a 75-pound dryer that uses the same cylinder diameter as a 120-pound dryer but with 20% more air flow and BTUs than a traditional 75-pound model, plus it fits through a 36-inch door. This equipment helps larger items such as duvets and sheets to open up during the finishing process but doesn't take up any additional floor space.
Everybody understands that it takes space to process linen. Another area that is often overlooked is the ceiling. Putting the soiled and clean linen in overhead monorail bags not only saves space but can help reduce labor. Because of new technology, we also have some batch washing systems that produce the same number of pounds per hour but in a much smaller footprint than the tunnel washers of the past. This is a big space-savings opportunity.
Unfortunately, if your space already exists, then you have to work with what you have. Benchmarking with your equipment vendors, chemical vendors and fellow laundry managers on their best practices can be a big help in freeing up valuable real estate.
Look for areas where you can improve your operation. Maybe cutting down on rewash by working with your chemical supplier, increasing your pounds per operator hour, or creating some outside-the-laundry storage areas can help.
The faster you can turn the linen around, the less space it will take up in the laundry production area.
Uniforms/Workwear Manufacturing: Scott Delin, Superior Uniform Group, Seminole, Fla.
During a recent weekend, instead of playing golf, I decided to tackle my garage and finally clean it out so we could use it for what it was intended: parking our cars. I was immediately faced with two dilemmas: 1) what to do with our excess belongings and 2) how to maximize the storage capacity and free up the area for storing our cars.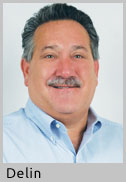 I realized that as my family continues to grow, we accumulate additional belongings with no solution as to where to store them all. Similar to many laundries today, as we add business and our volume increases, our physical storage capacity begins to choke us and bog things down. Eventually, a laundry's lack of free space could directly impact its daily production flow.
While contemplating our immediate need to increase storage capacity, I had a sudden epiphany. I remembered what we had done in our laundry when faced with a sudden need for more storage and space. Realizing building an addition would cost lots of money and was basically out of the question, I knew the only direction to go was up.
As laundries continue to grow, two tips to make the most out of existing production space and improve production flow involve going vertical. One could try adding an overhead rail system for garment storage and route make-up and/or adding a mezzanine (a low-ceiling story between two main stories in a building).
By installing an overhead rail system, you will remove items from your floor, freeing up valuable space to enhance production flow and allow for immediate growth. An overhead rail system is a good solution for storage of both soiled linen and garments, and also an excellent way to store and move clean garments prior to shipping out to your customers.
Adding a mezzanine is a perfect way to maximize the height of your building and, in some cases, possibly double and/or triple your storage capabilities. These systems allow you to gain more precious space by going up as opposed to going out.
The beauty of these two systems is that you can design them as needed to fit your specific facility but they can later be dismantled, moved and reinstalled if desired. Once your facility is enhanced in this way, there is new space to handle your increased business and improve production flow.
Check back tomorrow for Part 2!