DENVER, N.C. — Leonard Automatics, a manufacturer of commercial laundry equipment, reports that it has added Robert Spradley to its North America team as Western regional sales manager.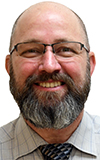 Robert Spradley
Spradley has provided sales and service as well as engineering support to the textile, garment manufacturing and laundry industries for more than 30 years.
"We are fortunate to have the skills that Robert brings to our team and we look forward to him supporting the Western region," says Dan Farnsworth, vice president of Sales.
Spradley joined Leonard Automatics in 2011 as a field service engineer, installing and supporting the Leonard line of equipment.
In 2017, he was promoted to the international sales team where he would quickly become the director of International Sales.
Over the past four years, the company says sales have grown throughout Asia and the Middle East and into other areas of the world within the garment manufacturing, garment distribution and laundry industries.