PLAINFIELD, Ill. — The Board of Directors of the Healthcare Laundry Accreditation Council (HLAC) has voted Rocco Romeo as president-elect.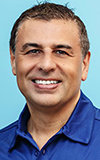 Rocco Romeo
On Jan. 1, 2022, Romeo will assume the duties of Board president of HLAC, a nonprofit organization formed to inspect and accredit laundries processing healthcare textiles for hospitals, nursing homes and other healthcare facilities.
Romeo, an HLAC Board member several times over the years, is CEO of HLS Linen Services, Ottawa and Toronto, Ontario, Canada. He served as HLAC's Board president from 2012-13. He currently serves as the Board's secretary/treasurer, a position he also holds on the board of the International Association of Healthcare Textiles Management (IAHTM), and he was recently elected a director of the Association for Linen Management (ALM).
Romeo will succeed Linda McCurdy, who has been HLAC's board president since January 2020.
"Rocco Romeo has a great reputation within the industry," McCurdy says. "His vast knowledge of our business, his high level of professionalism, and his passion for this industry are all exceptional and unparalleled.
"Plus, with his affable, approachable nature he will be an ideal leader as HLAC continues to grow in the years ahead. We'll be fortunate to have him at the helm." 
"I've been associated with HLAC for many years, as a board president and having served on numerous committees," Romeo says.
"I look forward to helping the organization to grow its already stellar reputation and its impressive roster of accredited laundries as we dedicate the years ahead to spreading awareness of the role that healthcare laundry plays in patient safety."