"Equipment, chemicals, etc., play a huge part in our laundry's success, but our most important asset is our people. We have to work well as a team. In what ways can I improve my team-building skills and learn how to spot trouble that could drag down staff morale and curtail production?"
Uniforms: Barb Herman, SanMar Corp., Issaquah, Wash.
It's pretty clear that our industry does a good job building teamwork and morale on the sales and service side. But most companies typically don't turn inward, toward their production and administrative staffs, to provide any real motivators for going beyond the call of duty or for building better production through true teamwork.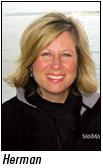 We treat people fairly and truly care, yes, but do we motivate and build a culture of efficiency from the inside out?
We as an industry spend a lot of effort and time "externally" branding and marketing our goods and services to our customers and prospects. But we don't really spend any time doing the same for our internal staff.
If you were to give a plant tour today, could your department leaders explain to a prospect what you do in your laundering process that sets you apart from the competition? Can they state why, for instance, you might fold and bundle your shop and bar towels versus bagging them in bulk?
The word "teamwork" is defined as a cooperative or coordinated effort on the part of a group of persons acting together or in the interests of a common cause. The idea of giving your production and administrative staff "all the information" empowers them with more knowledge to connect the dots.
It makes them part of the success of your company and enables them to own their process. It makes what they do more important.
When you give meaning to people's work, you enhance morale. And studies for decades have shown us that higher morale provides higher production, whether in quantity or quality.
The following is a recipe for success in team building from within our plants and offices:
Make them part of the important, customer-centric decisions. If you make a change in the way you need to produce goods, such that it enhances your service, the production staff should be just as much a part of that decision or design process as the sales and service staffs.
Make sure that your internal staff knows how you sell your products and services.
When you have internal meetings, bring someone from sales and/or service, so that ideas can be exchanged from both perspectives. Build a culture that you are truly all working together. Do the same when you have external department meetings, by bringing production or office personnel to those meetings, and empowering them to take issues back to their respective "departments" to figure out solutions.
Hold full staff "rap" sessions with your entire organization (or at least representatives from all departments). Create a 360-degree view. As a leader, it's a must to provide and/or be the conduit that allows and enhances information flow in both directions.
When all of your teams know they have the 360 view, teamwork will be a natural result. It is when we compartmentalize and run departments in a vacuum that we don't take advantage of the teamwork opportunity that exists in every company.
Teamwork starts from the top down and grows from the bottom up!
Commercial Laundry: Rick Rone, Laundry Plus, Sarasota, Fla.
Certain ideologies can be used based on the number of workers within a company, but respect is necessary no matter what the size.
Keep employees motivated. Motivation is not always associated with giving more money. Managers need to be smart about scheduling workers, making sure they get at least 40 hours a week and consider how many days they will need to complete the hours. Can they save a day of paying for childcare and/or transportation if you schedule them for four 10-hour days instead of five days or more with shorter shifts?
When there is not enough work, review your people. When possible, lay off the ones who are not performing well and let the others complete a full-time schedule. Keeping the right people will maintain your production levels.
The employer can help employees in different ways. If a worker gives advance notice that he or she can't report for work on a particular day, let them switch with another co-worker so they won't lose hours.
Schedule employees who can carpool to work together on the same day so they can split the cost of gasoline.
Recognize the various nationalities in your laundry by doing something special on their holidays. Promote from within whenever possible.
Rotate workers to different workstations; this will prevent burnout while helping them gain experience in different areas, ultimately boosting production.
In the laundry industry, we encounter many different cultures and people who speak different languages. Workers can come from various foreign countries and primarily speak their native language, not English. People who are fluent in all languages spoken at your laundry must be available to prevent problems from happening due to miscommunication.
Communication issues will drastically affect production and quality. All employees should take comfort in knowing there is someone they can ask questions to better understand what they are supposed to do.
When you hire a new employee, make sure he or she has the right capabilities. Place new hires with more experienced employees so their work can be monitored in case they are not working up to standards (quality, speed, etc.) or a problem arises.
Managers must monitor production by piece or pound per hour and see that the workers are aware of these numbers and where they are with respect to standards. Consider an incentive if production goals are achieved.
Experience shows that employees will split off into different cliques or groups for various reasons, and this will affect your production and quality. Break up these groups, and make them understand that they need to work together. They work for the same company, and "groups" cannot be tolerated.
Understanding and accommodating your employees, and listening to their suggestions and ideas (hint: install a suggestion box) makes them feel important and part of the company.
Tomorrow: Answers from the textile/uniform rental, hotel/motel/resort laundry, and equipment/supplies distribution sectors…