KENT, Ohio — R.W. Martin Company, a North American remanufacturer and provider of commercial laundry machinery and auxiliary plant support equipment for the textile care industry, reports that Judd Lewis has joined the company as parts department manager.
The company says his primary objective is to increase R.W. Martin's depth of customer support within its existing customer base, as well as grow the company's presence both within and beyond the commercial laundry markets.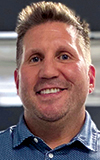 Judd Lewis
"Judd has the customer service and industrial distribution knowledge we value to maximize profitability, build strong customer relationships and grow our business," says Chip Ottman, president of R.W. Martin Company. "We're excited to have him join our team."
Lewis has nearly 20 years of experience in industrial distribution, including warehouse management, inventory/cost control, customer service and inside sales management. He previously served as a customer service sales associate at Kaman Industrial Technologies in Massillon, Ohio, and as the service center operations manager and an account manager at Applied Industrial Technologies in Canton, Ohio.
"I'm looking forward to leveraging my experience to help advance R.W. Martin's leadership position as a fast, reliable supplier of replacement parts for the textile care and process water industries," Lewis says.