DENVER — Seymour Katzson, co-founder of laundry product supplier Katzson Brothers Inc., died March 23 just days away from his 99th birthday. 
He was well-known in the dry cleaning and laundry industry not only for his consummate sales and customer relation skills, but also for his broad knowledge of equipment and parts. 
Katzson had a friendly, indefatigable presence in the industry for more than 80 years.
A member of the increasingly shrinking Greatest Generation, Katzson and his brother, Sidney, spent most of their formative years at the Denver Sheltering Home for Jewish Children, as their mother passed away when Seymour was less than a year old.  
At the age of 6, Seymour was selling newspapers on "his" 15th and Champa St. corner in Downtown Denver.  
During World War II, he served as a radio operator in the Ascension Islands and then returned home after the war to help his brother operate and run the business they established before he left.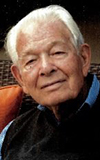 Seymour Katzson
Sidney and Seymour founded Denver Tailor Supply (later to become Katzson Brothers) with a $200 loan. Since then, Katzson Brothers has become a national leader in the laundry/dry cleaning and hotel/motel/hospitality industries.  
Today, Katzson Brothers is 84 years old and has expanded to three locations, serving a 10-state region.
Katzson is survived by his two daughters Michele Right (Richard), Robyn Levy (Andrew), five grandchildren and eight great grandchildren. He was married to Maxine Price Katzson, who preceded him in death after 64 years of marriage. His daughter Mindy died 11 years ago. 
Donations can be made to The Denver Hospice.