CINCINNATI — Richard T. Farmer, founder of uniform and facility services provider Cintas Corp., died Aug. 4. He was 86.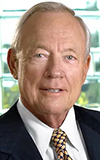 Richard Farmer
Farmer created Cintas from a family-owned business processing shop towels in Cincinnati. After graduating college in 1956, he joined his family's business as a sales representative. He was eventually named president of the company.
In 1968, Farmer left the family business to test a new concept that involved unique fabrics and processing systems for uniforms which ultimately revolutionized the entire industry. Within two years, his new company, Satellite Corp., was so successful that it acquired the family business.
In the mid-1970s, Satellite was renamed Cintas Corp. With a strong appetite for growth and a strong record of performance, the company went public in 1983.
Farmer served as CEO through 1995 and as board chairman through 2010. Since that time, he has held the title of chairman emeritus.
Today, Cintas is a Fortune 500 company with revenue of more than $7 billion. The company employs thousands of employee-partners in nearly 500 locations across the United States and Canada.
The corporate culture Farmer instituted is a key component of the company's long-term success and includes a focus on customer-driven innovation, professionalism and exceeding the expectations of customers, shareholders and working employee-partners.
Farmer's business acumen and community-centric attitude resulted in recognition on the local, regional and national levels. He was inducted into the Greater Cincinnati Business Hall of Fame, named E&Y's Entrepreneur of the Year, was honored by the Cincinnati USA Regional Chamber as one of the Great Living Cincinnatians and was twice named CEO of the Year by Financial World magazine.
He is the recipient of a Doctor of Laws degree from Miami University.
Farmer is survived by his wife of 64 years, Joyce, his three children and their spouses, grandchildren, great-grandchildren, and many nieces and nephews. He was preceded in death by his sister, Joan Gardner, and brother-in-law, Jim Gardner.
A Mass of Christian Burial will be held on Aug. 17 at 10 a.m. at the Cathedral Basilica of St. Peter in Chains in Cincinnati. The Mass will adhere to COVID protocols as defined by the Cathedral, City of Cincinnati and State of Ohio.
In lieu of flowers, the family requests that contributions be made to: The Michael J. Fox Foundation for Parkinson's Research, P.O. Box 5014, Hagerstown, MD 21741-5014, or to Easterseals Military and Veteran Services, 2901 Gilbert Ave., Cincinnati, OH 45206, or the charity of your choice. Condolences may be posted to rohdefuneral.com.