GRAND CANE, La. — Pauline Gamble, former director of Academic Affairs for the Association for Linen Management (ALM) in the late 1990s, died Dec. 23 due to complications from COVID-19.
"Our sincere sympathies are extended to her family, colleagues and friends," shares ALM.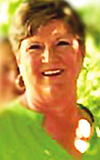 Pauline Gamble
Gamble earned her bachelor's degree from Northeast Louisiana University (now the University of Louisiana at Monroe) and her master's degree from Louisiana State University in Shreveport.
When she finished college, Gamble taught school in Houma, Louisiana, until accepting a position as a mathematician with Texaco in New Orleans. At the time, there were no female engineers in the oil and gas business, and she became one of the first women to work in that capacity.
Gamble was at her happiest in South Louisiana: Mardi Gras, LSU football, the food, the music—she always felt that the larger-than-life spirit of that region fit her larger-than-life personality.
After retirement from Texaco, Gamble taught school in Louisiana and Texas and worked in institutional laundry management in Alabama, Georgia, Indiana, Kentucky and Tennessee.
If ever a place brought her as much joy as her beloved New Orleans, it was the Smoky Mountains of Tennessee.
She eventually returned to Louisiana, making her home in Grand Cane. Not one to sit idle, Gamble took a position teaching math at Central School, where she worked until her passing.
She was preceded in death by her parents and a brother, James Bronson Gamble.
She is survived by her sister, Donna Gamble Basco (Teddy Ray); her nephew and niece, Andy Crocker and Katie Crocker Price (Jason); her great-niece and -nephews, Alexis Austin, David "Fish" Price and Jase Price; and many more family and friends.