LOS ANGELES — Kevin Minissian, president and CEO of Norchem Corp., died the afternoon of Nov. 23 after being shot by a gunman in nearby Pasadena, the company reports.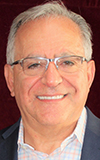 Kevin Minissian
Pasadena police received several calls reporting shots fired and patrol units arrived to find Minissian, 70, with several gunshot wounds. Meanwhile, the suspect—identified only as a man in his 20s—attempted to carjack a woman to evade capture but fled on foot as officers arrived. He later took a second woman hostage before being fatally shot during an exchange of gunfire with police a few blocks away.
Authorities don't know what led to the fatal shooting of Minissian and are continuing to investigate the incident.
Norchem Corp. says that for more than four decades, Minissian dedicated himself to developing innovative chemistry solutions and advanced water systems for the textile services industry.
"Kevin's commitment to excellence paired with his passion to serve his customers enabled him to acquire tremendous respect and positive influence amongst his customers and colleagues, many of whom have become dear friends," shares Norchem.
As founder and CEO, the company says Minissian's inventive genius helped shape the industry by offering state-of-the-art solutions for the betterment of the environment, including wastewater reclamation, green chemistry, automated dosing systems and other process technologies focused on sustainability.
As an industry thought leader, he was an active member of TRSA, CSC, ITRA, ALM, WTSA, TCATA, and served as a council member of the Los Angeles Sanitation Districts' Advisory Council. He was also on the 2019 Panel of Experts for American Laundry News.
Minissian's expertise in electrical engineering and biochemistry paired with his innovative nature enabled him to explore "what's possible" when troubleshooting operational challenges and pragmatically applying advanced solutions to achieve sustainable and scalable outcomes.
When he was not serving customers, he could be found enthusiastically and tirelessly working in the lab to simplify the laundry cleaning process for greater efficiency. 
"He will be incredibly missed and never forgotten, as he left an indelible impact with all those he knew and encountered," the company says.
Minissian is survived by his beloved wife, four children, siblings, and nieces and nephews.
His legacy will be carried out by his family and the steadfast team of dedicated, loyal members of Norchem, the company shares.
Announcements will follow of plans for a memorial service and for donations for those who wish to attend and/or participate.