NAPLES, Fla. — John C. "Jack" Haried, the founder of Energenics Corp., died March 3 at the age of 91, the company reports.
Haried began his career in Aurora, Ill., where he worked for the Haried Co. with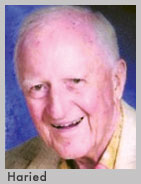 his father, selling and installing heating, ventilating and air conditioning equipment for commercial and residential customers. He started two businesses, Weatherbee and Energenics, both focused on developing and manufacturing cost-effective equipment that conserved and reused energy. He moved Energenics to Naples in 1985.
Haried was an inventive engineer, Energenics says, earning patents for a number of designs. He sold the company to investors in 1992.
Surviving Haried are his wife, Peg; two daughters, Kathryn and Margaret; two sons, John and James; seven grandchildren; and three great-grandchildren.
Memorials may be made to the Alzheimer's Support Network or the First United Methodist Church, both of Naples.