SYRACUSE, N.Y. — G.A. Braun reports that Jim Corrigan, vice president of sales, U.S./Canada, died unexpectedly May 23 due to cardiac arrest.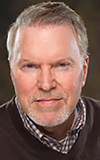 Jim Corrigan
The company says that Corrigan, who was a team member for more than 22 years, played a major role in much of Braun's success and growth during the past two decades. 
Before coming on board with G.A. Braun, Corrigan held a sales position with Senking/ELX and was responsible for many of their successful installations in the United States and Canada. 
An ambassador and promoter of the laundry industry, he was active in the Independent Textile Rental Association (ITRA), the International Association for Healthcare Textile Management (IAHTM) and TRSA, the association for linen, uniform and facility services.
The company shares that Corrigan was considered a dear friend by many in the industry and was well respected by many more. He is survived by his wife Penny; his daughters Stephanie (Tim) Darden and Alex (Darin) Bjork; and grandchildren Roselyn, Denver, Dani, and Dutch.
He had a passion for travel, good food and loved good wine. He spent his free time perfecting his aim at the gun range, cooking with his wife and making arrangements to see his daughters and play with his grandchildren.
G.A. Braun adds that Corrigan always had a smile on his face and made everyone he met feel important and valued. He would know everything about a person by the time he finished talking with them, and he was the glue that brought everything together. Whether it was with family, friends or work, he was there for them.
"He will be missed and never forgotten as he touched us all and made us better people because we knew him," the company shares.