WORCESTER, Mass. — Jack Reiff, the founder and owner of WET-TECH, which provides ozone systems for laundry operations, died Jan. 23 after an illness.
He was 85.
In his early years, Reiff volunteered for military service during the Korean War, joining the U.S. Coast Guard. After serving, he worked at Fairchild Aircraft and Grumman Aircraft and then Brookhaven Laboratories.
Reiff's association with the laundry/linen services industry began when he opened his own laundry and drycleaning business, Cavalier Cleaners, on Long Island.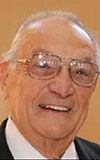 Jack Reiff
In 1974, he changed career tracks, shifting to business administration with a bachelor's degree in management from Worcester State University. Reiff was a regional sales manager for a chemical company before starting WET-TECH.
Throughout his life, Reiff was active in his local Temple and took part in many community services. When not working or volunteering, he enjoyed travel and skiing.
Reiff leaves behind many family members, including a brother, David (Linda) Reiff, and his children Evan Shepherd Reiff and wife Devatara Holman, Amy (Reiff) Vogler and her husband Bill, and Debra Reiff. He also leaves behind several grandchildren and many nieces and nephews.
Also surviving Reiff is Sheila Tarlin, his partner of three years. He was preceded in death by his wife Phyllis, his brother Paul and sister Roslyn.
Memorial contributions may be made to: Temple Emanuel Sinai Brotherhood Scholarship Fund, the Jewish War Veterans Post #32, or a charity of choice.