MISSION, Kan. — The American Reusable Textile Association (ARTA) reports that Donald A. Pedder has died from COVID-19 at the age of 77 in Danville, Connecticut.
He was a 50-year veteran of the textile services industry, no stranger to tattoos, and loved motorcycles and fast cars. In recent years, he had become dedicated to fitness, exercised daily at the gym and maintained a 100-pound weight loss.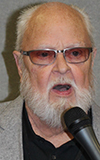 Don Pedder
Pedder was the first laundry operator to join ARTA in 1992 and served as its president from 2004 to 2008. Under his leadership, the number of laundry operators in ARTA grew to make up 50% of the membership.
He also established ARTA's Biennial Education Conference in 2006 and developed the organization's sponsorship program. Pedder also supported the creation of a Canadian ARTA, or CARTA, and later oversaw the merger of ARTA and CARTA. He received ARTA's MVP Award at the Clean 2017 Member Breakfast for past and ongoing contributions to the association.
In recent years, he and his wife, Claudine, had retired to Danville to be near family, including their daughter Monique and grandchildren.
According to Claudine, Pedder died at the end of January after a long battle with COVID-19, one that began before the holidays, included hospitalization in ICU, recovery at a rehab center and ended back at the ICU.
"The doctors wanted to put him back on the vent when he returned to the hospital for a second time, but he told them 'No,'" says longtime friend Alan Gordan of Gurtler Industries. "I met Don 40 years ago when he was building plants for Initial USA and I was selling chemicals for Ecolab's Textile Care Division. He was my best friend and I miss him already."
Pedder began his career as a regional engineer for Gordon Linen Service and Aratex. He later worked for Initial as an engineer, HLS Linen Services in Chicago as president and CEO, and Reino Linen Service as COO.
In his later years, he formed Donald Pedder Consulting and shared his expertise with many laundries, as well as Centurion Medical Products. He also enjoyed serving as an inspector for the Healthcare Laundry Accreditation Council (HLAC).
In addition to ARTA, Pedder was active in other industry associations including the International Association for Healthcare Management (IAHTM) as president and the Midwest Textile Services Association as vice president.
The family plans a private service with cremation and will spread Pedder's ashes along the ocean, as was his wish. They ask that in lieu of flowers, any donations should be made to a charity of choice in his name.