BLOOMINGTON, Ill. — Hermes Commercial Laundry Equipment, a laundry equipment distributor located here, reports that in March it named Robert Mattocks its vice president of sales.
He will report directly to company owner Mark Wilkins.
Hermes says Mattocks brings more than 15 years of account management and sales experience to his new post.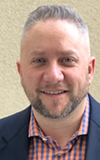 Robert Mattocks
Most recently, he was the national channel sales manager for laundry payment systems maker Card Concepts Inc. (CCI).
Mattocks says he couldn't be more excited to continue his laundry industry career with the Hermes team.
"Continuing the rapid growth of Hermes will be a big challenge, and I feel we have all the pieces in place to take our initiatives to the next level," he says.
Hermes distributes equipment for Speed Queen, Yamamoto, Sankosha, B&C Technologies and several other lines.