ENGLEWOOD CLIFFS, N.J. — Industry veteran Gustavo Gutierrez has been named national sales manager of Commercial Laundry Systems for LG Electronics USA, the company reports.
Gutierrez brings more than two decades of experience to his new role at LG, where he will be responsible for developing and managing programs to differentiate LG in the on-premise/coin and route/multi-housing laundry markets in the United States.
"Gustavo's extensive experience in the commercial laundry industry will take our leadership to the next level as we work to become a significant player in the U.S. marketplace," says Stefan Meir, Commercial Laundry director, LG Electronics USA. "His vision and leadership will help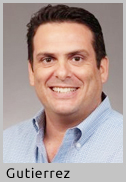 lead to the continued expansion of our route network, as well as attracting new, high-quality distributors."

Gutierrez comes to LG Electronics from Mac-Gray, where he served as a route sales manager in the South Florida market. While there, he also launched The Bid Shop, an online platform to connect service professionals with companies looking for proposals.

"LG's innovative laundry products offer an exciting opportunity for our distributor network," says Gutierrez. "My focus is to build on LG's momentum to help the business grow further and enjoy a similar strong reputation in the commercial space as it has in the consumer laundry market."
 

Have a question or comment? E-mail our editor Matt Poe at [email protected] .