MADISON, Ind. — Meese Inc., a designer and developer of plastic rotomolded products, has named Steve Knox as its regional sales manager for the Western U.S. and Canada,
Meese says Knox joins a dedicated team of sales professionals offering the company's Poly-Trux line of ergonomically designed, antimicrobial rotomolded solutions for linen transport, materials handling and storage.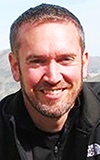 Steve Knox
During Knox's career in sales and sales management in the Western U.S., he was able to bring new ideas to help target new markets and expand OEMs and distributors' core businesses. His broad direct manufacturing and product experience ranges from electronics to elastomers (rubber) to ergonomics and specialty metal.
"We are excited to have Steve on the Meese team," says Dan Rodriguez, national sales manager at Meese. "He brings a deep range of sales experience across a wide variety of industries and companies. He will be an immediate asset to our team."
Knox, an active outdoorsman, loves hiking, camping, and off-roading as well as enjoying the study of anything geology related. Steve earned a bachelor's degree in international business from California State University, Fullerton, and resides in Corona, California.