CLEARWATER, Fla. — Kemco Systems, a global water and energy technology company, reports it has hired Nathan Mein as regional sales manager. He will be based in Houston.
Mein began his career as an artillery officer in the U.S. Army and earned a master's degree from the University of Texas, El Paso.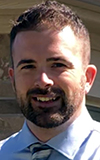 Nathan Mein
After working in management of a textile and polyurethane manufacturing plant, he transitioned to sales engineer in the commercial laundry industry with Tingue, Brown and Co.
Kemco says Mein brings with him a passion for knowledge and a commitment to bringing conservation solutions across all industries.