MONTREAL — MIP Inc., a supplier of healthcare textile solutions, reports that Chris Healey has joined its U.S. sales team.
Healey will be a sales consultant covering the state of Texas and surrounding states.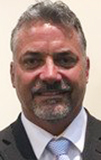 Chris Healey
MIP says that he is an industry veteran, first spending time on the textile side as a salesman and a sales trainer, and most recently on the textile-processing equipment side.
Healey lives in League City, Texas, with his family. He is an avid outdoorsman and muscle car aficionado, but his real passion, when not at work, is devoting time to volunteer locally and abroad.