SYRACUSE, N.Y. — Laundry equipment manufacturer G.A. Braun has promoted Chief Operating Officer Joe Gudenburr to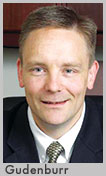 company president, Braun CEO and Chairman of the Board JB Werner has announced.
Gudenburr joined Braun in 2003 as vice president of operations, with responsibility for all engineering, service and operations initiatives. His role expanded in 2006 with promotion to chief operating officer, adding responsibility for domestic sales and marketing efforts.
Gudenburr is a United States Military Academy graduate with an extensive domestic and international operations, sales, and research and development background.
"Joe's hard work, dedication and loyalty to our business and industry is exceptional," Werner says. "I am proud to have Joe as president and look forward to working with him to continue our strategic domestic and international growth initiatives."
As owner, CEO and board chairman, Werner will now look to expand his focus on strategic business investments, and on company initiatives in Braun's core business and complementary business ventures.