MCDONOUGH, Ga. — Encompass Group LLC, a manufacturer/marketer of reusable textiles, professional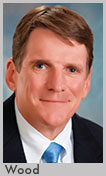 apparel and disposable and single-use medical products, has named John J. Wood its chief executive officer effective July 1, replacing the retiring Mike Spurlock. Spurlock will continue as a member of Encompass' Board of Directors.
Wood has more than 20 years of experience in increasingly responsible positions within the healthcare industry, Encompass says, with companies such as Standard Healthcare, Baxter Healthcare, Allegiance and Cardinal Health.
He was a sales representative for Baxter Healthcare's Hospitex Division in 1993-1998 and senior marketing manager in 1998, leading to his promotion to director of health systems for Hospitex (which had become part of Cardinal Health) in 1999.
Cardinal Health spun the Hospitex business off that year to form Encompass Group, and Wood became vice president of health systems for the new company's acute care market.
He was named executive vice president of sales for the Encompass Textile and Interiors Division in 2002, and promoted to senior executive vice president and general manager of the Acute Care business in 2007. In late 2012, he was appointed to the Encompass Board of Directors in a non-voting, advisory role.
Wood holds a bachelor of science degree in marketing from Appalachian State University in Boone, N.C. He and his wife Janet and sons Jake and Trip live in Peachtree, Ga.