CHICAGO — What do laundry and linen service customers know about commercial/industrial laundry operations?
Probably not much.
So then, how can a service expect its customers to understand factors such as quality, linen abuse, costs, etc., so both can work better together to meet the customer linen needs? 
The only way is through education.
Jason Hartsell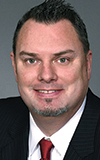 Will Geissel
To find out more about educating laundry and linen service customers, American Laundry News communicated with Jason Hartsell, director of operations for United Hospital Services, a cooperative healthcare laundry in Indianapolis, and Will Geissel, senior director of procurement and laundry operations at Marcus Hotels & Resorts and manager of the Wisconsin Hospitality Linen Service business unit in Milwaukee for Marcus.
In Part 1, Will mentioned monthly, quarterly, as-needed business reviews. How often would you recommend educating customers?
HARTSELL: A lot would depend on the size of the customer-service team that a laundry has in place. I could see a laundry with a large customer-service team meeting face to face with customers at least monthly, but without a dedicated team, the face-to-face meetings are going to be less frequent.  
A laundry could also do a monthly or quarterly electronic newsletter and utilize many of the linen education topics that are provided by the Association for Linen Management (ALM), American Laundry News, TRSA and linen vendors. It doesn't have to a formal newsletter; it could be as simple as forwarding a pertinent e-mail or news article to the linen managers in the hospital. 
GEISSEL: We believe in continuous education. It isn't something we schedule; instead, it's an ongoing practice in how we handle our partnerships.
How do you work with customers who aren't that interested in education?
HARTSELL: On the few times that I have had a customer that wasn't that concerned about linen education, I have tried to find something that may concern them. If linen in the facility is handled by materials, I would talk to them about lowering their linen usage; if it was a housekeeping manager, I would talk about bed makeup.  
Sometimes linen would fall under another support department, and it was just a matter of finding some common ground that they could relate to and understand. 
GEISSEL: With our partners, we are in the relationship for the long haul, which means even when they aren't as open to regular conversations and education, we still stay vigilant and provide them with important information.
Do you have an example of a time customer education improved your relationship/partnership?
HARTSELL: We had a facility that was utilizing linen at about twice the rate per adjusted patient day of our average facility. We knew there was an issue, and the linen manager was really at a loss on addressing their usage.  
We worked with this facility on forming a linen committee, creating their acceptable linen usage policy and then conducted an extensive series of rounding, linen awareness days, and educational sessions in the hospital. During this process we had complete buy-in all the way up to the C-suite, and we were able to cut their linen usage in half.
GEISSEL: We have a large customer that was experiencing an excessive amount of tearing in their bed sheets. The first thing that came to mind for them was an issue with our equipment, but after extensive research and testing it was determined that the problem was as simple as old, worn-out linens. 
Because of our transparency and commitment to finding the problem, it was not only an educational experience for the customer, but it also helped solidify our relationship. 
What final thoughts do you have in regards to educating laundry customers?
HARTSELL: I'm a fan of advocating for the laundry process. I've never met a laundry operator that is not doing everything they can to send out clean linen.  
As an industry, we do everything we can give a quality product to the end user, and it's something that we should be proud of and share with our customers.
GEISSEL:  We view customer education as a value add to the excellent service we already look to provide. 
It also helps up be better partners and vice-versa, because we cultivate a better understanding of each other's business. 
Miss Part 1 about the importance of customer education, benefits and methods to use? Click HERE to read it.