CROMWELL, Conn. — Cromwell Textile, based here, reports it has hired Hailey Gagnon as an account representative.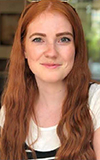 Hailey Gagnon
"Six months into the role of account representative, Hailey is learning every aspect of the business and has already completed her CLLM certification," the company says. "She is hopeful and excited to be a part of the Cromwell Textile team."
A graduate from the University of Hartford, Gagnon brings with her more than 10 years of customer service experience including five spent supporting the public and fostering relationships as an employee of the Legislative Branch of Connecticut.
Away from the office, Cromwell Textiles shares that she loves to be active, playing soccer, rock climbing and spending her time exploring the outdoors. In the office, she prides herself on her interpersonal skills and attention to detail.
Gagnon resides in Newington, Connecticut.