HUTCHINS, Texas — Brim Laundry Machinery Co. Inc., which manufactures, rebuilds and maintains heavy-duty laundry equipment, reports that Cory Marchand has returned to the company as project and service coordinator.
He had previously worked for Brim Laundry Machinery for 15 years as the parts manager. The company says he brings with him a vast knowledge of laundry machinery.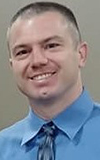 Cory Marchand
During his break from Brim Laundry Machinery, Marchand worked in the optical industry with automated CNC machines. With this venture he increased his knowledge of automation and mechanical functions.
He assisted a team of technicians, salesmen, and customer service reps in day-to-day operations. With his help, the U.S. optical division quickly became the leader for this worldwide company.
Marchand's responsibilities at Brim will include updating support materials, scheduling machine installations, coordinating service, leading special projects and providing support where needed.