FRANKLIN, Tenn. — The Board of Directors of CSCNetwork reports that it has appointed laundry industry veteran, David Bernstein, as its next executive director.
He will replace Jamey Cashman, who recently retired after 12 years of service to the organization and its members.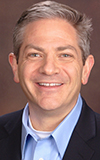 David Bernstein
Bernstein is well known to CSC's members and suppliers, not only as a CSC supplier but also as a speaker and educator at CSC events, seminars and conventions.
"We had a lot of interest and a competitive field of candidates for the position, but David brings a unique and powerful set of skills, training, and experience that make him uniquely qualified to be our executive director," says Ed Heilman, president of CSC's Board of Directors.
"He has broad industry experience, is a strong leader, excellent manager, has a reputation for honesty and integrity, and comes into the role with a lifetime of personal and professional relationships with many of our members and suppliers."
Bernstein is in his third decade of professional service to the laundry industry. A Lean Six Sigma Black Belt, his experience includes machinery manufacturing and specification, engineering consulting, association management and oversight, event planning, customer service and sales, laundry planning, process improvement, operations, and technology.
He is known as an industry volunteer and advocate, is the recipient of numerous industry awards, has served on industry boards of directors, led task forces and committees, and is a frequent and sought-after public speaker, writer and educator.
"I am very excited to be joining CSC as its new executive director," says Bernstein. "This is a challenging time for independent laundries, and CSC is the single-best resource to ensure that independents remain strong.
"Working alongside CSC's experienced and talented staff, I will work to improve on CSC's industry-leading purchasing programs, educational offerings, and networking opportunities so that we can continue to provide the resources our members need to compete, grow, and increase profits."
In deciding to seek the position, Bernstein referenced his role as a former staff member of the Uniform and Textile Services Association (UTSA), and his role as a volunteer leader and educator for numerous industry associations, including CSC.
"Some of the most memorable, rewarding, and successful areas of my career have been in association work, education, business development, advocacy, and event planning," he says. "I can't wait to bring these skills and experiences to bear for the benefit of CSC and its members."
Bernstein's first day at CSC will be May 17 when the mantle of leadership will pass from Cashman.
"I have known Jamey since his days at VF Workwear," reflects Bernstein. "Jamey has done a phenomenal job of leading and growing the organization. I know that I have big shoes to fill, and I am honored that the Board and membership have allowed me this opportunity."