Chemicals Supply: Philip L. Bodner, Metro-Chem, Kearny, N.J.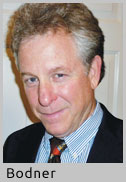 Hello, my name is Phil Bodner, and I am a "soap-man." I get to wear many hats and mean many things to the customers I serve. I'm pleased to be a part of American Laundry News' continuing effort to bring new ideas and beneficial information to our industry. I hope to contribute to the conversation and provide whatever insights that my experience will allow.
I live in South Jersey with my wife, Penny. My likes include family, golf, history, politics, current events and dining out with our friends. For the past 28 years, I have worked as a sales representative and sales manager for Metro-Chem Inc., and my expertise in laundry technology extends from shirt laundering, hospitality and institutional, to linen supply and industrial uniform plants.
My responsibilities have included new product ideas and testing, hiring and training field technicians, procurement and engineering of automated injection systems, marketing and sales meetings, as well as maintaining many long-term customers in my own Philadelphia area territory.
At Metro-Chem, we manufacture more than 100 laundry-specific products for all laundry needs. We provide innovative, top-quality chemistry to all segments of the industry, but we believe that you can only be as good as your ongoing commitment to service in the field. It is this combination of effective products and a true consultative approach to technical service that I believe helps fuel our sales growth and delivers the greatest good to our individual customers' businesses.
As a company, we stay abreast of everything from local water conditions and water restrictions, to wastewater regulations and new types of textiles and garments. As such, we've been busy in 2012 developing a new activated chemistry to help perform well in lower temperatures, lower pH and with fewer oxidizers required. This concept is moving us toward shorter wash formulas with importance placed on less water consumed per load.
We have also done our due diligence and created several new non-NPE surfactant-based detergents with exciting results. These formulations are more readily biodegradable for those that desire, or are required to take, a greener path toward laundry production.
I would like to wish everyone a Happy New Year, and I hope that 2013 will provide opportunity, renewed prosperity and happiness to all in our industry and our country.
Equipment Manufacturing: Steve Hietpas, Maytag Commercial Laundry, St. Joseph, Mich.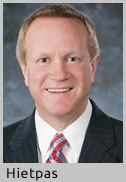 Since graduating from the University of Wisconsin with a bachelor's degree in business administration and marketing, I've spent the majority of my career—more than 15 years—in the commercial laundry industry, with a focus on the OPL segment.
Currently a senior sales manager, I joined the Maytag® Commercial Laundry team in October 2007. To date, I have managed OPL sales throughout the Midwest, Mid-Atlantic and Canadian markets, and I work directly with distributors to ensure our products meet the needs of their customers. Previously, I was a regional sales manager for another commercial laundry equipment manufacturer covering a similar territory. My background also includes working with national accounts that purchase equipment directly for their own use, as well as selling to franchisees.
Maytag® Commercial Laundry offers a full range of commercial washers and dryers to the OPL market through an international network of distributors. Our company is dedicated to developing energy-efficient solutions and dependable products for the commercial laundry market. And in 2008, Maytag® Commercial Laundry celebrated the 50-year anniversary of its entry into the commercial laundry business.
As the industry continues to evolve, so does commercial laundry equipment. From a manufacturer's perspective, this can create challenges. An excellent example of this is the ongoing objectives to increase the energy and/or water efficiency of equipment, while decreasing the amount of time it takes to do laundry—therefore decreasing labor costs—and providing exceptional cleanability.
2012 was a busy and successful one for Maytag® Commercial Laundry. We introduced an industrial line of soft-mount washer-extractors available in 180-, 230- and 275-pound models. We also enjoyed continued growth within the OPL market segment and are continuing to work on new product introductions for 2013 and beyond.
Uniforms/Workwear Manufacturing: Scott Delin, Superior Uniform Group, Seminole, Fla.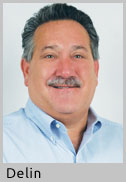 I have expertise in image apparel and uniform program management, specializing in healthcare laundries. With more than a decade of supplier sales experience, and another 15 years in a mixed-plant linen supply company, I believe my hands-on knowledge base is unparalleled.
I, alongside my father, grew up operating a women's apparel cut-and-sew operation. I am passionate about sharing my knowledge with others and helping them build successful partnerships.
The company I work for, Superior Uniform Group, was founded in 1920 as Superior Surgical Manufacturing. By 1926, its Fashion Seal Uniforms brand was created. After acquiring several other manufacturers over the years, Superior Surgical officially changed its name to Superior Uniform Group in 1998 to better reflect its greatly expanded clientele base.
Superior Uniform produces more than a dozen catalogs, outfitting employees from various industries that include healthcare, restaurant/food service and governmental/public safety. The company has also created a call center division called The Office Gurus, and a digital apparel division called everyBody Media, which were both launched in 2008 and 2011, respectively.
I am a board member for the Textile Rental Services Association (TRSA), where I develop and present in-house training programs that can be used in laundries as they seek new, innovative approaches to selling uniforms to the healthcare industry. I am also active in the American Reusable Textile Association (ARTA), where I serve on its board of directors, and am a member of the Healthcare Laundry Accreditation Council (HLAC) advisory board. I hold a bachelor of science degree in textile and apparel management from Philadelphia University.
A couple issues that will present challenges in the new year include market changes and how our healthcare customer base is looking for a new type of uniform look, with new kinds of user-friendly fabrics. I'll also be thinking about more employee purchase programs as hospital and healthcare budgets continue to be cut.