Equipment/Supply Distribution: Bill Bell, Steiner-Atlantic Corp., Miami, Fla.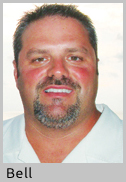 I grew up in Charlotte, N.C., with two loving parents. I have an older sister and a twin brother, and our parents instilled in us the value of hard work, education and moral character, which shaped the adults we are today.
I get my competitive spirit from playing sports throughout my early years. I graduated from Mars Hill (N.C.) College in 1993 with a bachelor's degree in business. I reside in Orlando, Fla., with my wife, Lisa, and our daughters Taylor and Jordan.
As regional vice president for Steiner-Atlantic Corp., I am responsible for sales and service in the central Florida market. Steiner-Atlantic, founded in 1959 by William Steiner, is a large laundry, boiler and dry cleaning equipment, parts and service distributor, with its core business in Florida and the Caribbean.
Upon graduating from college, I set out on my path to a successful sales career by working for Controlled Motion, a small company selling power transmission to equipment OEMs and end-users. My mentor, Tony Harris, taught me the importance of listening and recognizing what my customers needed. I owe much of my success to him.
After working for him for five years, my journey shifted to selling textile sock dyeing and packaging equipment. This move led to my start in the laundry business, when David Carter hired me to cover the central Florida territory for Wink Davis Equipment Co. in 2001. Upon completing my training, I relocated from Charlotte to Orlando. In 2004, when Wink Davis closed its doors, another door opened for me with Steiner-Atlantic.
Mike Steiner, our president and CEO, brought me on board to continue servicing our central Florida market. At Steiner-Atlantic, we provide customers with turn-key solutions from design-build to equipment sales, installation, start-up and training, with continued parts and service.
I am honored to have received many sales accolades, including Chicago Dryer's "Rising Star" and "Heavy Hitter" awards, and multiple Pellerin Milnor "Key Man" awards. This past year, I also received our local Association for Linen Management chapter's Allied Tradesman of the Year award.
I look forward to the challenges of 2013, and hope that you will find some of the articles that I participate in to be informative and helpful.
Textile/Uniform Rental: Tom Peplinski, Golden West, Oakland, Calif.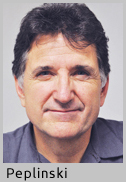 I am the operations manager for an independent industrial laundry located in the San Francisco Bay area. Starting in 1980, delivering linens and mats to the mining industry of northern Minnesota, I have held management positions in sales, service, production and administration. The position of operations manager suits me well, as it affords me an opportunity to interact and direct all departments while drawing on a vast wealth of experience.
Golden West is a family-owned, independent laundry with six routes serving the San Francisco Bay area. Like most laundry companies, there is a real challenge in finding and establishing long-term employees. However, by creating procedures designed to empower employees, Golden West has created a strong retention program.
The last few years of economic belt-tightening has had a profound effect on our industry. Adapting to an ever-changing economy requires reviewing and modifying policies, procedures and practices.
While identifying key areas for profit and setting practical cost-cutting measures in 2012, Golden West experienced one of its most successful years for growth and profit. I am excited about the opportunities in 2013, and enter into the new year with the understanding that change is more than a mindset.
Healthcare Laundry: Judy Murphy, RN, BSN, CLLM, RLLD, North Mississippi Medical Center, Tupelo, Miss.
My background is in education, nursing and quality. I started working for North Mississippi Medical Center (NMMC) in the Education department in February 1988. Via scholarship, I received my associate degree in nursing from Itawamba Community College in June 1991, and my bachelor of science degree in nursing from the Mississippi University for Women in May 1996. During this time, I worked full-time as a staff nurse, charge nurse and in administration. NMMC has been instrumental in helping me achieve my educational goals and to grow within the organization.
In 1997, I became a clinical liaison for Materiel Management and served as a clinical resource for purchasing, sterile processing, laundry, nursing, surgery, etc. I worked with nursing to develop linen specifications, determine best practice, develop utilization programs, develop linen awareness/use and misuse recommendations, and implement staff development programs. In 2012, we implemented a successful linen-reject program that utilizes the end-user to help improve quality by removing unacceptable linen items at the point of use.
I've researched staining concerns, as well as ozone applications in laundry (NMMC was one of the first U.S. facilities to place an ozone system on a CBW®); provided education on topics that include bed bugs, safety, infection control, etc., at a local and national level; and have written articles for NMMC's bimonthly Check-up magazine.
I was asked to take on the role of laundry director in February 2008. To become better informed, I turned to the American Laundry and Linen College (ALLC) in Richmond, Ky. I received my CLLM certification from the Association for Linen Management (ALM) in July 2008 and my RLLD certification in March 2012. I serve as president of the association's Tri-State Chapter, administrative secretary on its national Board of Directors, member of its Scholarship and Membership committees, ALLC facilitator for fall 2012, and as a member of a variety of focus groups on a wide range of projects.
Challenges abound in the linen industry. Though it's truly a manufacturing process, this industry has its own niche.
One universal challenge has been the implementation of the latest Association of Perioperative Registered Nurses (AORN) recommendations regarding reprocessing scrub apparel. NMMC had been successfully home laundering for years. Processing the scrubs added more than 17 hours of labor to our work day but we received no additional FTEs. Implementing lean processing concepts, learning how other laundry plants were succeeding, and networking with many industry experts has allowed us to adjust and conquer. We're now researching anti-wrinkling technology and automated scrub-processing equipment.
Another challenge is having to process 6-7 million pounds per year using older, poorly maintained laundry equipment in an older, poorly designed facility. Fortunately, I work for a company that focuses on quality and customer service (currently the only two-time healthcare winner of the Malcolm Baldrige National Quality Award, in 2006 and 2012) and understands the need for an educated, well-trained staff, state-of-the-art equipment and lean processing concepts.
We've been able to slowly replace outdated equipment, and are planning a modern, state-of-the-art, energy-efficient (possibly LEED-certified) facility with pack room and sterilization capabilities. Our goal is to efficiently process 15 to 20 million pounds of linen per year, with plans to begin operations within the next 18 to 24 months.
In an uncertain future, survival will depend upon our ability to continue to develop and implement best practices, forward "out-of-the-box" thinking, and lean concepts in an effort to become a truly lean, green washing machine.
Tomorrow: Introductions to representatives of the consulting services, hotel/motel/resort and commercial laundry sectors...