Episode Archive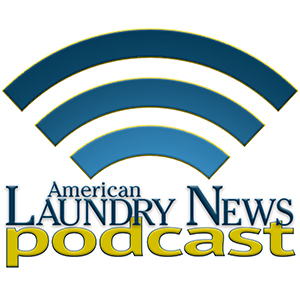 Episode: 12
February 20, 2019
How Distributor Partners Help Laundry Operations
Distributors provide essential equipment to laundry/linen services, but there is more to the equation. Find out more from guest Craig Dakauskas, president of CLEC.
Episode: 11
January 23, 2019
Culture Shock: Is Your Laundry Really a Good Place to Work?
Kris Boesch, CEO and founder of Choose People, a company dedicated to helping change company cultures so employees feel good about going to work, talks about creating a positive workplace culture.
Episode: 10
December 20, 2018
Laundry Productivity Secrets Revealed
Jon Witschy, sales manager for data technology company Spindle, reveals ways laundries can enhance productivity today and in the future.
Episode: 9
November 21, 2018
Sheets, Towels and More: A Look into Hospitality Laundry/Linen Services
In this episode, Phil Jones, director of laundry for Sheraton Vistana Resort in Orlando, offers his view of hospitality laundry, from its challenges to its future.
Episode: 8
October 24, 2018
Behind Bars: Correctional Facility Laundry Operations
Todd B. Jenson, laundry supervisor at the Ramsey County Correctional Facility in Minnesota, talks about the challenges and rewards of jail laundry operations.
Episode: 7
September 19, 2018
Five Decades of Laundry Services
Richard Warren retired earlier this year after 53-plus years in the industry. In this podcast, he shares some observations and insights from his career.
Episode: 6
August 22, 2018
Panel of Experts: Richard Engler, JPS Health Network
Richard Engler, textile processing department manager for JPS Health Network in Fort Worth and a Panel of Experts author for American Laundry News, talks about his life in laundry services.
Episode: 5
July 18, 2018
Tariffs, Trade Wars and Laundry/Linen Services
David Potack, president of Unitex, offers his take on what's happening with the enactment of tariffs on some foreign goods.
Episode: 4
June 20, 2018
Columnist at Large: Meet the Man Behind the Words
Get to know Eric Frederick, who has written for American Laundry News for more than 30 years and spent 44 years in the industry.
Episode: 3
May 16, 2018
Modern Marketing Secrets: Making Effective Use of Online, Social Media Opportunities
Dianne McKay, owner and president of Mustang Marketing, shares how laundry/linen services can up their online marketing game.
Episode: 2
March 19, 2018
Tax Cuts and Jobs Act: Essentials for Laundry/Linen Services
Catherine Varosy, a Block Advisors bookkeeper-enrolled agent/master tax advisor, discusses the new tax law.
Episode: 1
January 23, 2018
Healthcare Laundry Today: Cleanliness, Quality, Mergers and More
Listen as Randy Bartsch, president and CEO of Ecotex Healthcare Laundry Services, discusses what's going on in the healthcare laundry industry.