RIPON, Wis. — Commercial and Coin Laundry Equipment Co. (CLEC), a factory-direct distributor of Alliance Laundry Systems equipment, recently promoted Sam Husain to director of operations for its Dallas facility.
Husain, who joined the CLEC team in 2018 as a regional sales manager, has since amassed an impressive track record, including selling the first Speed Queen Laundromat franchise in the Dallas/Fort Worth area.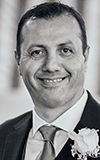 Sam Husain
"Sam is a true professional in every sense of the word," says Craig Dakauskas, president of CLEC. "The CLEC Effect, which is the term we use for our commitment to the pinnacle of customer service, is part of Sam's DNA. He truly embodies the type of customer experience we seek to deliver."
Gifted in the customer service arena, he previously worked for AT&T, Chase Bank and Wells Fargo Bank before joining the CLEC team.